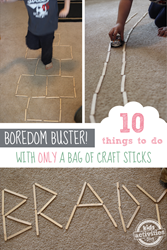 Craft sticks make fun indoor games this season.
Dallas, Texas (PRWEB) November 19, 2013
Winter is approaching fast, so get ready for fun indoor activities. Seasoned Moms have published fun indoor activities with craft sticks and a DIY math puzzle on Kids Activities Blog. Get the kids ready to learn and have a blast with a simple set of craft sticks.
Craft sticks are inexpensive and versatile. They are a classic during everyones childhood. Over 10 fun indoor activities with craft sticks have been released on Kids Activities Blog. Among the fun ideas are building roads with craft sticks and letting the kids run down their cars carefully between the sticks.
Other fun ideas include building letters and words with craft sticks. Making a DIY hopscotch game, playing mini swords, building a catapult, and planting a number garden are only some of the fun tips from seasoned Moms this week.
The craft stick math puzzle is easy to make. Materials needed are a bunch of craft sticks and paint pens. Simply write a set of math facts on each stick and leave the answer open. Line the sticks up and answer each math fact on the beginning of the next stick. Ready is the set of chain responses.
Let the kids take turns picking sticks and answering them. Once they have a set of sticks complete, let them line up the sticks to create a chain of responses. Variations of the game can be played according to the age and math ability of the child.
For detailed instructions and to get additional fun ideas, check out Kids Activities Blog this week. Come get inspired to let the kids have a blast while sneaking in a bit of learning.
About Kids Activities Blog
Kids Activities Blog is a website created by two moms (who collectively have 9 children), Rachel Miller and Holly Homer from June Cleaver Nirvana. It is their daily goal to inspire parents and teachers to play with kids. This interactive website publishes simple things to do with kids twice a day. Kids Activities Blog is a great tool for moms and teachers to find kid-friendly activities that create memories and sneak learning into the fun.