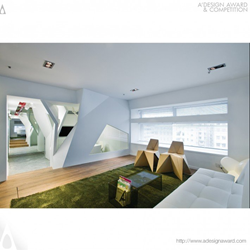 Como, Italy (PRWEB) November 21, 2013
A' Design Award and Competitions are delighted to share that the design Fold For Fun by Millimeter Interior Design Team won the notable Silver A' Design Award at Interior Space and Exhibition Design Competition among a great number of submissions.
Regarding Fold For Fun
The office flat, with an area of 1,200 square feet, can be divided into three major areas: working zone, meeting room and multi-functional resting area. The working zone, an area emphasizing practicality and used for daily operation, consists of a washroom together with 8 working desks. The meeting room provides an ideal place for staffs and clients to interact, brainstorm and discuss. As for the multi-functional resting area, the main function is to offer a relax space for staffs to rest and chitchat in the midst of busy work.
To learn more, please follow: http://www.adesignaward.com/design.php?ID=28172
Team Members for Fold For Fun
Fold For Fun was designed by Michael Liu and Team of Millimeter Interior Design
The Silver A' Design Award
The Silver A' Design Award is a prestigious award given to top 5% percentile designs that has delivered an exemplary level of sublimity in design. The designs are judged by a panel of three different jury which is composed of Academic, Professional and Focus Group Members. The designs are evaluated with score normalization to remove any biases and are voted on aspects such as functionality, ergonomics, engineering, presentation, innovation, usability, fun details, technology, and any other specific points that could be considered, each of these points are further weighted for different jury groups.
About A' Design Award and Competitions
A' Design Award and Competitions, aims to highlight the excellent qualifications of best designs, design concepts and design oriented products. A' Design Award and Competitions are organized and awarded annually and internationally in multiple categories to reach a wide, design-oriented audience. Learn more at: http://www.whatisadesignaward.com.