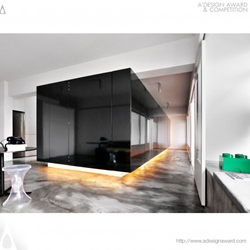 Como, Italy (PRWEB) November 22, 2013
A' Design Award and Competitions are delighted to share that the work Wonder Box by William Chan for Spacedge Designs has been awarded with the notable Silver A' Design Award at Interior Space and Exhibition Design Competition.
Details of Wonder Box
Focusing on functional simplicity, the Wonder Box is a large structure that sits in the center of the flat and yet gives convenience to the family's daily activities. This is achieved by manipulating the existing space to maximise the living and storage areas, taking into account the natural light, ventilation and flow of human circulation. The 'floating' Wonder Box extends from the kitchen to the sleeping zone, ensuring a visual continuity throughout the home. The box forms the core of the flat and hides a bomb shelter, two bathrooms, wardrobes and ample storage space for the family.
To learn more, please visit: http://www.adesignaward.com/design.php?ID=28252
Project Members for Wonder Box
Wonder Box was realized by William Chan for Spacedge Designs
The Silver A' Design Award
The Silver A' Design Award is a prestigious award given to top 5% percentile designs that has carried out an exemplary level of greatness in design. The designs are judged by a panel of three different jury which is composed of Academic, Professional and Focus Group Members. The designs are evaluated with score normalization to remove any biases and are voted on aspects such as functionality, ergonomics, engineering, presentation, innovation, usability, fun details, technology, and any other specific points that could be considered, each of these points are further weighted for different jury groups.
About A' Design Award and Competitions
A' Design Award and Competitions, aims to highlight the excellent qualifications of best designs, design concepts and design oriented products. A' Design Award and Competitions are organized and awarded annually and internationally in multiple categories to reach a wide, design-oriented audience. Learn more: http://www.whatisadesignaward.com.