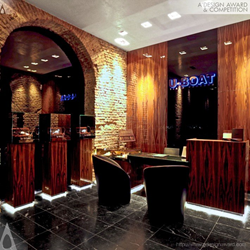 Como, Italy (PRWEB) November 24, 2013
A' Design Award and Competitions are pleased to announce that the design U-Boat Watch Store by Alessandro Luciani has been awarded with the notable Silver A' Design Award at Interior Space and Exhibition Design Competition.
Regarding U-Boat Watch Store
The award-winning project is a luxurious and original interior design for made in Italy watch store - U-BOAT by Italo Fontana. The idea of design aims to present a store space that respects and transmits the brand values and its rich history. The watch design introduces merging of the history and traditions that conveys modernity and originality, while interior of the store creating a comfortable atmosphere in an prestigious environment that lets the customer immerse in the world of U-BOAT.
To learn more about the award winning design, please visit: http://www.adesignaward.com/design.php?ID=28636.
Project Members for U-Boat Watch Store
U-Boat Watch Store was made by Alessandro Luciani, Alessandro Pasquali, Federico Mazzola and NewStoreEurope, Italy
The Silver A' Design Award
The Silver A' Design Award is a prestigious award given to top 5% percentile designs that has carried out an exemplary level of sublimity in design. The designs are judged by a panel of three different jury which is composed of Academic, Professional and Focus Group Members. The designs are evaluated with score normalization to remove any biases and are voted on aspects such as functionality, ergonomics, engineering, presentation, innovation, usability, fun details, technology, and any other specific points that could be considered, each of these points are further weighted for different jury groups.
About A' Design Award and Competitions
A' Design Award and Competitions, aims to highlight the excellent qualifications of best designs, design concepts and design oriented products. A' Design Award and Competitions are organized and awarded annually and internationally in multiple categories to reach a wide, design-oriented audience. Learn more: http://www.whatisadesignaward.com.