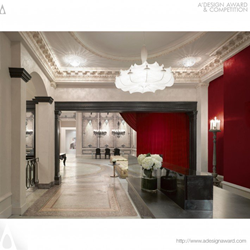 Como, Italy (PRWEB) November 25, 2013
A' Design Award and Competitions are delighted to share that the work The Massey Tower by Cecconi Simone has been granted the prestigious Silver A' Design Award at Interior Space and Exhibition Design Competition.
Concerning The Massey Tower
The Massey Tower is an upcoming 60 storey condominium residence in Downtown of Toronto. It takes its name and interior-design inspiration from Massey Hall of 1894, one of the city's premier live-music venues. The project's sales centre is housed within the adjacent Canadian Bank of Commerce Building of 1905, a designated landmark to be restored and integrated into the base of the planned high-rise. The 432 m² sales gallery harmonizes historical period and contemporary design, preserving original interior elements in-site while extending them with new ones.
To learn more about this design, please follow: http://www.adesignaward.com/design.php?ID=28615.
Team Members for The Massey Tower
The Massey Tower was concieved by Principal Simone, Associate Thomson, Senior Designer Girolamo, Intermediate Designers Schneider and Yousif, and Junior Designer Philippe.
The Silver A' Design Award
The Silver A' Design Award is a prestigious award given to top 5% percentile designs that has carried out an exemplary level of perfection in design. The designs are judged by a panel of three different jury which is composed of Academic, Professional and Focus Group Members. The designs are evaluated with score normalization to remove any biases and are voted on aspects such as functionality, ergonomics, engineering, presentation, innovation, usability, fun details, technology, and any other specific points that could be considered, each of these points are further weighted for different jury groups.
About A' Design Award and Competitions
A' Design Award and Competitions, aims to highlight the excellent qualifications of best designs, design concepts and design oriented products. A' Design Award and Competitions are organized and awarded annually and internationally in multiple categories to reach a wide, design-oriented audience. To learn more visit: http://www.whatisadesignaward.com.