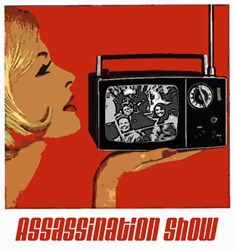 'Assassination Show' argues that JFK's death is not a 'case closed.'
Nashville, TN (PRWEB) November 18, 2013
Tommy Spurlock was a schoolboy in Ft. Worth, Texas, the day John Kennedy died. The disembodied voice of his principal announced the death of the president. Time stopped for the young Texan and America.
Luke Powers wasn't born yet. But he grew up a conspiracy theorist and literary scholar (Vanderbilt University, dissertation on William Blake)--two enterprises that are closer than may seem at first glance. Powers is a longtime student of JFK conspiracy theories, alternative histories and multiple universes that refuse to allow the case to be closed (despite commissions, mountains of books, reenactments, advanced acoustical evidence, etc.).
Powers, a college professor and singer-songwriter, has collaborated with Spurlock (producer of Rick Danko, David Olney, Chip Taylor and recently featured on Emmylou Harris and Rodney Crowell's Grammy-winning "Old Yellow Moon" (2012)). Billed as the Spicewood Seven, Powers and Spurlock released "Kakistocracy" (2006), an acclaimed anti-war album. Spurlock has produced and played on a number of Powers' solo records including "Texasee" (2008), "Running to Paradise" (2009) and "Memphis Mermaid" (2012)--which have featured Garth Hudson (of The Band), Richard Lloyd (of Television) and Kenny Vaughan (The Fabulous Superlatives).
But the JFK project was always lurking. Powers had written a number of songs relating to various characters involved in the assassination over the years, but pulled them together into a sequence and created the book for "Assassination Show" in 2013. The musical does not provide a single coherent narrative of the now-mythic events of Dealey Plaza in 1963. Rather the songs act as Rashomon-like peepholes in the psyches of JFK, Jackie Kennedy, Lee Harvey Oswald, his wife Marina, LBJ, Jack Ruby, David Ferrie and even The Magic Bullet (backed by a kickline of dancers in bullet-suits).
"Assassination Show" is a tribute to the public imagination that refuses to allow the JFK assassination to be closed. It is a record--before, during and after--of the time when America stopped.
Powers and Spurlock plan to stage the musical in Spring 2014. However, in honor of the fiftieth anniversary of the Kennedy Assassination, they have decided to release three songs which encapsulate the method of their madness and reflect the loss that haunts a nation still.