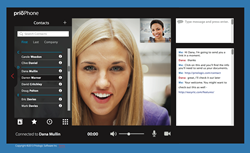 PrioPhone along with Oracle's WebRTC Session Controller are a great fit for large enterprises looking to leverage WebRTC technology
Santa Clara, California (PRWEB) November 19, 2013
Priologic is showcasing their new WebRTC softphone PrioPhone working with the Oracle WebRTC Session Controller (WSC) at the WebRTC Expo and Conference in Santa Clara Nov 19 to 21 in booth 408.
The PrioPhone softphone calls out to the traditional phone system through the Oracle WSC which provides a highly secure and scaleable platform for WebRTC and a gateway to existing systems. WebRTC allows peer-to-peer communications including video chat and text messaging. PrioPhone is designed to integrate with enterprise directory systems making it ideal for simplifying internal communications.
Priologic is a leading WebRTC company having released a series of open source and commercial offerings over the past year. "The PrioPhone is one of our first commercial WebRTC offerings and it targets large enterprises. As a company we've spent the last 10 years providing software development and integration services for large enterprise and we're an Oracle Gold Partner, so it's a great fit," says Doug Pelton, CEO of Priologic.
Priologic won Best WebRTC Tools Award for their open source EasyRTC as software bundle that makes building WebRTC applications easier at last November's WebRTC expo and Conference in South San Francisco. In June they won the Editor's Choice Award at the WebRTC Expo and Conference in Atlanta for Tawk.com, a free secure, anonymous video chat that runs on top of EasyRTC.
About Priologic
Priologic Software Inc., was founded in 2003 and is headquartered in Victoria, B.C., Canada, provides dedicated enterprise software teams to large enterprises, and offers a technology stack, developer toolkit, sample code and development services for WebRTC projects. Read more about Priologic at Priologic.com.