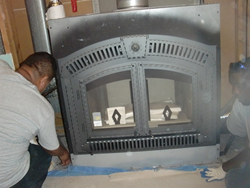 Louisville, KY (PRWEB) November 19, 2013
All American Chimney Service of Louisville KY released a new video describing its business and best industry practices recently. The video is meant to describe the business and industry best practices for Chimney Repair Louisville KY and Chimney Sweep Louisville KY.
All American Chimney Service was started in 2006 when Doug Hetsch saw there was a need for a certified and fully trained chimney service company in the Louisville area. Doug noted that while there were chimney services in the area, none were certified in the service they were performing. As a highly trained pilot, that was not acceptable.
That's why all the chimney sweeps at All American are certified by the CSIA (Chimney Safety Institute of America) for chimney venting systems as well as dryer vent safety and cleaning. Clients never have to worry if the person that is entering their home and servicing their vent system or repairing their fireplace is trained and certified, because they guarantee it!
In fact, All American Chimney Service not only guarantees their service, they also have a Best Price & Satisfaction Guarantee as well. That's right: they guarantee the best price for their services and will work until clients are satisfied with a job well done. It's easy to do because they know their staff is the best trained in the area and has the most experience after sweeping, inspecting, renovating and repairing thousands of chimney systems over the last 8 years.
So, to make chimneys safer, get them repaired and restored when broken or when they leak, call All American Chimney Service. Call All American Chimney Service at 502-435-2364.