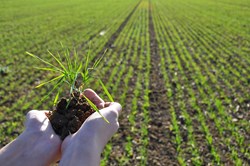 We have been actively integrating sustainable business practices across our organization and have achieved some impressive milestones along the way.
Reston, Virginia (PRWEB) November 17, 2013
Supreme Group, a global leader in the provision of end to end supply chain solutions in challenging environments around the world, has unveiled its first major Corporate Social Responsibility (CSR) report, which describes the company's ethical, social and environmental performance globally in 2012.
The report, which has been published on Supreme's corporate website, was compiled using the GRI (Global Reporting Initiative) standards and covers topics related to ethical workplaces; investing in employees; safe and healthy business practices; respecting the environment; and supporting local communities. In recent years, Supreme's CSR strategy has been strengthened by the implementation of a number of sustainable initiatives across its global operations; reaffirming the company's commitment to the highest industry benchmarks.
"We have been actively integrating sustainable business practices across our organization and have achieved some impressive milestones along the way," said Stephen Orenstein, Principal, Supreme Group. "This report is an important step for us to achieve our goal of embedding a socially responsible culture in our operations, and also enables us to share the positive contributions we make around the world with our stakeholders."
"The road to sustainability is not without challenges. We operate in many countries ranked as among the most corrupt and difficult places to do business. We serve clients that are based in hostile environments, where there is often a lack of legal infrastructure and systems. To address this, we have established global standards to help ensure that our values are upheld wherever we operate, and that we conduct business fairly and honestly in all areas around the world," Orenstein added.
Supreme has established a formal Ethics and Compliance program that ensures adherence to the highest workplace standards and a worldwide hotline that provides employees and stakeholders with an anonymous channel to ask questions, express concerns, and raise issues about workplace activities. In addition, Supreme's Code of Business Ethics and Conduct was created to ensure that all business is conducted legally and to the highest ethical standards. The Code has been translated into 13 languages and applies to all employees, at all levels of the organization, including management.
One of Supreme's strategic objectives in 2012 was to promote and further entrench ethical business practices across the company. Some of the initiatives taken included creating new guidance to provide additional clarity to staff on key issues; developing and implementing a group‑wide training and awareness program; and the strengthening of audit capabilities and whistle-blowing processes.
As a socially responsible company, Supreme launched the Supreme Foundation in 2009 to support underprivileged children in local communities where it operates. The Foundation focuses on improving the health, education, safety and living conditions of disadvantaged children in Afghanistan, Ivory Coast and Bosnia. Through its work, Supreme Foundation has helped hundreds of children and families survive amidst the ravages of brutal winters, wars, and severe deprivation.
Furthermore, Supreme's commitment to, and adoption of, internationally recognized standards for quality, health and safety within its operations has earned it the ISO 9001 and OHSAS 18001 certifications for quality management and occupational health and safety management systems. In 2012, Supreme also implemented an Environmental Management System and earned ISO 14001 Environmental Management accreditation, as well as completing its first Carbon Footprint audit.
"In addition to recycling programs, we have implemented a number of initiatives to reduce our impact on the environment. For instance, in our Afghan-based catering facilities we have introduced automatic hand dryers to replace the use of paper hand towels. With most of our facilities now fitted with these dryers, we have completely eliminated the transportation and use of paper towels from the supply chain. By switching from paper hand towels to the hand dryers, we were able to save an estimated 80 tons of CO2 from being released to the atmosphere from our Kandahar facilities alone," said Victoria Frost, Supreme's Director of Corporate Development, Marketing & Communications.
"Corporate responsibility initiatives therefore are an integral part of our business. Looking ahead, we aim to bring further coherence to our programs and improve our measurement and data collection techniques, which will allow us to expand our reporting in crucial areas and develop new initiatives that align with our CSR efforts," Frost concluded.
For more information about Supreme or the company's sustainability initiatives, visit http://www.supreme-group.net.

About Supreme Group:
Founded in 1957, Supreme Group is a global leader in the provision of end-to-end supply chain solutions to defense, government, and commercial sector clients around the world. For more than fifty years, the company has provided critical, life-sustaining services that empower clients to accomplish missions in challenging and austere environments.
Supreme offers a unique breadth of capabilities – ranging from procurement, transportation and storage through to technology and full site services. Supreme has a long history of supporting international organizations and governments. Its current clients include the United Nations (UN), the North Atlantic Treaty Organization (NATO), and leading military forces including the U.S. Department of Defense (DoD) and the U.K. Ministry of Defence (MoD). Over the years, the company has also partnered with many commercial clients.
The Group's excellent reputation is built on the key strengths of delivering where others cannot; implementing rapid response solutions; and creating fully integrated supply chain solutions.
As a socially responsible organization, Supreme Group strives to maintain the highest standards of ethics and integrity across its operations at all times. It is committed to respecting people and the environment; nurturing community development; implementing sustainable business practices; and giving back to the communities in which it operates.
More information on Supreme Group can be found by visiting http://www.supreme-group.net
For other information, please contact:
Carissa Crowley
External Communications Manager
Supreme Group
Business Mobile: +971 (0) 56 6819085 (UAE)
carissa.crowley(at)supreme-group(dot)net