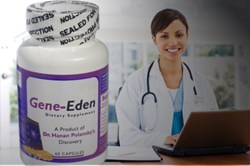 Individuals, for whom the herpes zoster vaccine does not work, need a proven, effective remedy that reduces symptoms of a viral outbreak. Gene-Eden-VIR was proven to be such a remedy. – Mike Evans, polyDNA
Rochester, NY (PRWEB) November 18, 2013
Herpes Zoster is a condition caused by the reactivation of the Varicella Zoster Virus (VZV). This viral reactivation can lead to a condition called acute herpetic anterior uveitis. This condition is an inflammation of the middle, pigmented, vascular structures of the eye, called the uvea. The structure includes the iris, ciliary body, and choroids (1). Uveitis that is, an inflammation of the uvea, requires an urgent referral and thorough examination by an ophthalmologist or optometrist and urgent treatment to control the inflammation.
"Three members of the Herpesviridae family - herpes simplex virus (HSV), varicella zoster virus (VZV) and, most recently, cytomegalovirus (CMV) - have been cornered as causes of acute, recurrent and chronic anterior uveitis (2)." This is according to an article published in September, 2009 in EyeNet Magazine.
Many people, including eye doctors, do not readily distinguish between the various herpes viruses that can cause herpetic eye disease (2). Dr. Emmett T. Cunningham Jr. M.D. said "The signs of herpetic eye disease can be subtle, so you need to have a high degree of suspicion. It's often very difficult to distinguish herpes simplex versus herpes zoster versus cytomegalovirus based on clinical signs alone. All three may be associated with elevated intraocular pressure, patchy or sectoral iris atrophy, and keratic precipitates that are distributed across the entire cornea (2)."
However, VZV is well-known to family care physicians as the cause of both childhood chicken pox and, as a reactivated infection, called shingles. The reactivation is often referred to as herpes zoster. Anterior uveitis related to VZV is more common among older individuals who typically have a weaker immune system, especially those over age 60, but it can occur at any age (2).
The good news is that there is a herpes zoster vaccine that is about 50% effective in preventing herpes zoster outbreaks in infected individuals (2). The bad news is that the vaccine doesn't help the other 50%.
The VZV virus could reactivate in these individuals and cause a herpes zoster outbreak. The outbreak could occur in the eye, and in these individuals, permanent damage can occur. Some of this damage includes corneal scarring and glaucoma (1).
"Individuals, for whom the herpes zoster vaccine does not work, need a proven, effective remedy that reduces symptoms of a viral outbreak. Gene-Eden-VIR was proven to be such a remedy." – Mike Evans, polyDNA
In a post marketing clinical study published on August 12, 2013 in the medical journal Pharmacology & Pharmacy in a special edition on Advances in Antiviral Drugs, researchers showed that Gene-Eden-VIR is safe and effective (3). Additionally, up to 70% of those studied reported a decrease in viral symptoms, and users experienced an increase in overall health (3).
Each ingredient of Gene-Eden-VIR was chosen through a scientific approach. Scientists scanned thousands of scientific and medical papers published in various medical and scientific journals around the world to identify the safest, most effective natural ingredients that target the latent form of herpes zoster. (3)
To learn more about Gene-Eden-VIR, visit http://www.gene-eden-kill-virus.com. All orders of Gene-Eden-VIR are completely confidential, and no information is shared or sold to any third party. Privacy is assured.
Reference:
(1) http://www.ncbi.nlm.nih.gov/pubmed/23813111
(2) Understanding and Treating Viral Anterior Uveitis, September 2009
http://www.aao.org/publications/eyenet/200909/feature.cfm
(3) http://gene-eden-kill-virus.com/PP_Gene-Eden-VIR-is-Antiviral.pdf
polyDNA is a biotechnology company that develops dietary supplements using the unique scientific method developed by Dr. Hanan Polansky, which is based on Computer Intuition.
In addition to his unique scientific method, Dr. Polansky published the highly acclaimed scientific discovery, called Microcompetition with Foreign DNA. The discovery explains how foreign DNA fragments, and specifically, DNA of latent viruses, cause most major diseases.
polyDNA developed Gene-Eden-VIR , an antiviral natural remedy that helps the immune system kill latent viruses.