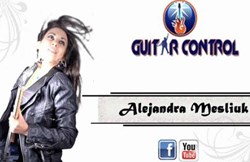 (PRWEB) November 17, 2013
In this theory guitar lesson, now available on YouTube.com, Alejandra Mesliuk teaches how to add the 9th to chords you already know to add flavor to their sound.
When Alejandra says to "add the nine" she is referring to the 9th tone of the major scale. The 9th is the same note as the 2nd but one octave higher. Guitarists often ask why not just call it the 2nd instead of the 9th if it's the same note. The reason is that the 2nd is only one step away from the Root Note and when played together can be a little dissonant, but since the 9th is one whole octave higher it sounds good together. Alejandra starts off with chords with the Root Note on the 5th string. The first example that Mesliuk demonstrates is Csus2(add9), (1-5-9), a sus chord has no 3rd. This is a shape that is used often by players such as Andy Summers of The Police in songs like Message in a Bottle. Next she shows Cadd9 and Cm-add9, both rooted on the 3rd fret of the 3rd string. Then she moves onto 7th chords with the 9 added to them, CM7(add9), C7add9, and Cm7(add9). Then Alejandra shifts to chord shapes with the root note on the 6th string. And finally she plays several diatonic voicing's to finish off the lesson with the following chords; CM7/9, Dsus2, FM7/9, G7/9, Am7/9, and Am(add 9). Often guitarists think of lead before rhythm, which should be the other way around. This lesson can help even the novice guitarist to play new and exciting chord voicings. TAB's are available for this lesson at GuitarControl.com.
Alejandra Mesliuk
Alejandra Mesliuk is from Buenos Aires Argentina. She studied jazz guitar harmony and under the method in Temperley Berklee School of Music by Ariel Ferreyrola. She has been an area teacher and clinician for the last 10 years in electric guitar, classical, and musical language. She is currently working on a solo album.
About GuitarControl.com
GuitarControl.com is the leader in modern guitar instruction. It's packed with recourses including articles, video lessons, and the best videos in the business for the beginner to the advanced guitar student taught by the best instructors out there. Weather you are into the blues, rock, jazz, metal, folk, or anything in between, they have you covered.