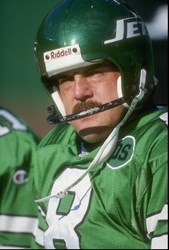 Long Island, New York (PRWEB) November 18, 2013
After recently being nominated for the NFL Hall of Fame, 7 time NFL All-Pro Nick Lowery will join the elite lineup which includes fellow 2014 Hall of Fame nominee, Super Bowl MVP in 1991 O.J. Anderson, Super Bowl Champions and All-Pro's Bart Oates, Derek Kennard along with New York Jets QB Boomer Esiason and Cardinals WR Roy Green both All-Pro's. The next sleep apnea awareness event hosted by Pro Player Health Alliance and Long Island Dental Sleep Medicine is on December 5, 2013 at the Long Island Marriott in Uniondale.
Nick Lowery has already been treated for sleep apnea by Pro Player Health Alliance in Phoenix, AZ where most of his charity work is done. Among several community services he now is involved in, Lowery founded The Nick Lowery Youth Foundation which is an Arizona non-profit organization that provides leadership institutes and workshops to enable youth to lead positive lives. David Gergen, Executive Director of Pro Player Health Alliance said, "Nick is a great man to have on board. He's a guy that will take time to help not only his former teammates, but the general public as well. He fits in perfectly with us and what we're trying to accomplish."
Mr. Gergen mentioned he was attending one of Nick Lowery's cerebral palsy charity events in Phoenix when Lowery heard his good friend and former teammate Boomer Esiason was going to be attending the sleep apnea awareness event in New York. Upon confirmation he said, "Count me in." The event, which will also include The Living Heart Foundation's HOPE Super Bowl Program founded by Dr. Archie Roberts, is expected to be the largest and most publicized Pro Player Health Alliance event to date.
Event Details
Time: 7:00-8:00 p.m.
Date: December 5, 2013
Location: Long Island Mariott
101 James Doolittle Blvd.,
Uniondale, NY 11553
To learn more about Dr. Rein and Dr. Seltzer, visit http://www.longislandsmile.com/.
Follow them on Facebook at http://www.facebook.com/proplayerhealthalliance.
About David Gergen
David Gergen, CDT and President of Pro Player Health Alliance, has been a nationally respected dental lab technician for over 25 years. He received the award for "The Finest Orthodontic Technician in the Country" given by Columbus Dental in 1986. He also has been appointed chair of the dental wing of the American Sleep and Breathing Academy a national interdisciplinary academy dedicated to sleep training and education with over 60,000 members. He has worked for some of the pioneers in the orthodontic and sleep dentistry fields. One of his proudest achievements is receiving The National Leadership award for Arizona Small Businessman of the Year in 2004.
About Pro Player Health Alliance
The Pro Player Health Alliance (PPHA) is an organization dedicated to helping former NFL players, through providing testing and treatment options for those who suffer from sleep apnea. In addition, the PPHA is dedicated to integrating education and raising sleep apnea awareness, in a fun and memorable way. In addition to the campaign, the PPHA is dedicated to testing and getting people who suffer from sleep apnea treated. The PPHA was created by David Gergen, President of Gergen's Orthodontic Lab and Former NFL legends.