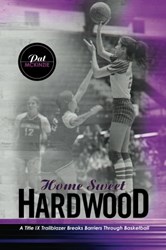 Observing the courage and determination with which Pat pursued her dream goes beyond gender and racial lines to reach a much deeper place within us all.
Geneva, Switzerland (PRWEB) November 19, 2013
As a child growing up in the 1960s, Pat McKinzie was a misfit because she would rather play ball than Barbies. In 1972, Title IX ensured that she would be allowed on America's playing fields, but it didn't happen without a fight for the basketball star since society did not embrace female athletes.
In Home Sweet Hardwood: A Title IX Trailblazer Breaks Barriers Through Basketball (CreateSpace Publishing $14.99), McKinzie's compelling memoir of her life as a pioneer in women's sports commemorates the 41st anniversary of the legislation that opened as many doors for women as the right to vote.
"In the voice of a woman who walks the talk, dribbled the ball and tells the story, I represent the silent pioneers who fought so that today no girl ever questions her right to be all that she can be," says McKinzie.
McKinzie was the first female athletic scholarship recipient in Illinois, drafted into the first women's pro basketball league, and part of the premier wave of American ball players in Europe. When the Women's Professional Basketball League folded in the early '80s, she traded family, friends, and career in exchange for a star billing in Paris. When France banned foreign players, she started over in Germany. Then, after a harrowing car accident in France shattered her career, McKinzie had to regain use of her limbs, then make a life-altering choice: rebuild her life abroad with the man she loved or return to her homeland.
Home Sweet Hardwood represents a journey through the resiliency of the human spirit. McKinzie shows that it's not about adversity, but rather how we handle hurdles.
"We can write our own destiny, even if we have to relearn how to hold a pen," she says.
A victim of discrimination, she challenges misconceptions about gender, race, and nationality. Even non-sport aficionados will identify with this life-changing story that inspires readers of all ages to never give up.
Through 30 years of coaching, teaching, and writing, McKinzie cultivated an impressive career from Wade Trophy Finalist and All-American athlete to hall-of-fame coach, counselor, columnist, and blogger. Married to a Frenchman, she raised two "third culture kids," and worked at the American School of Paris and International School of Geneva, Switzerland.
Home Sweet Hardwood (CreateSpace, $14.99, 206 pages, 6" x 9", paperback, ISBN-13: 978-1477465974) is available at https://www.createspace.com/3877698 and on line booksellers.
-30-