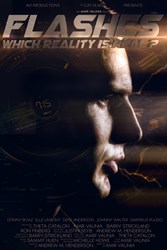 What if this is an alternate reality?
Houston, TX (PRWEB) November 19, 2013
The Houston based production companies, T-CAT Films and AV1 Productions are currently in the post-production phase of the feature film "Flashes," a Sci-Fi / psychological thriller that will keep you on edge.
"Flashes" is the journey of a man trapped in 3 different realities. John Rotit is a happy, content man with a loving wife. Hours later, he's a rock star shooting up heroine. And after that…he's something far more sinister. John unwillingly flashes between three parallel lives in which he knowingly exists in each. He has no clue how or why this phenomenon is occurring, only that he wants it to stop. John's judgment becomes clouded as he'll do anything he can to end his flashes and remain in the one life where he's truly happy.
"Flashes" is helmed by acclaimed filmmaker Amir Valinia. Valinia's latest effort is the recently distributed feature film "Xtinction" starring Locklyn Munro (White Chicks, Freddy vs. Jason) and "Mark Sheppard" (Unstoppable, Battlestar Galactica). His other film credits also include "Mutants" starring Michael Ironside (Terminator Salvation, Total Recall) and Steven Bauer (Scarface, Traffic), "Lord of the Streets starring DMX and Kris Kristofferson as well as "Lockjaw" starring DMX.
Starring:
Donny Boaz (TNT's "Dallas", Lifetime's "The Anna Nicole Smith Story" & VH1's "Crazy, Sexy, Cool: The TLC Story")
Deke Anderson (Green Lantern, Cook County, Friday Night Lights)
Dimitrius Pulido (Machete, The Change Up, Sin City: A Dame to Kill for)
Elle LaMont (Machete Kills, Strings, The Devil's Gravestone)
Johnny Walter (CW's "The Originals", Butcher Boys, A Swingin' Trio)
Serving as Producers are Theta Catalon, Amir Valinia, Ron Finberg and Barry Strickland. This team of independent filmmakers is the recipients of the Houston Filmmaker Grant; which is an initiative created by the Mayor's Film Task Force. The task force is a partnership program among the City of Houston through Houston Arts Alliance, Houston Film Commission, Greater Houston Convention & Visitors Bureau, Houston First Corporation, Women in Film & Television Houston and Houston Cinema Arts Society to support and stimulate the growth of local filmmakers and narrative feature length commercial motion picture production with films designed to be marketed and sold to a mass audience.
Aside from the usual crowd funding offerings like signed DVDs, posters and T-shirts, the production companies are offering fans exciting perks like VIP premiere tickets.
Take a moment to check "Flashes" out on Indiegogo and also share it with your friends. All the tools are there. Get perks, make a contribution, or simply follow updates. If enough of us get behind it, we can make 'Flashes' happen! Click link for more information & view featurette: http://igg.me/at/flashesmovie/x/3664583
Check out teaser trailer here: http://www.youtube.com/watch?v=d48eCZ8LytA
For more information please follow us on our Twitter & FaceBook Fan page:
https://www.facebook.com/flashesmovie
https://twitter.com/flashesmovie