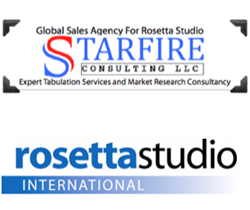 Rosetta Studio is a suite of tools that vastly decreases the time companies spend creating PowerPoint® and Excel® reports from tabular data. Create reports 70-95%+ Faster, with 100% Accuracy.
New York, NY (PRWEB) November 20, 2013
Until today, companies desiring any hands-on exposure to Rosetta Studio software were required to pay for and attend two-consecutive days of training. Even with this high cost-of-entry, there currently are are many productive users of this software. User testimonials are available to provide unbiased insight into existing users' experience.
However, many interested companies have been posing this question: "If this product is truly easy to use, why not let it speak for itself?" In response to this overwhelming demand, interested companies can now take advantage of a free, self-guided trial of Rosetta Studio software.
Rosetta Studio has teamed up with Starfire Consulting (a leading market research consultancy firm) to produce a self-guided tutorial-based trial system. The entire tutorial can be completed within 3-5 hours, giving potential users real understanding and experience with the software. Written as a day-in-the-life of fictional researcher Jane, the real-world applications of the software are clearly and quickly conveyed.
During the trial, access to the fully unrestricted software is provided, and users are free to tinker and explore. Rather than relying on sales-speak and flashy presentations to lure people in, Rosetta Studio is a product can stand on its own and is easy to use and understand.
........................................
Rosetta Studio Product Information:
◆ Rosetta Studio is a suite of tools that streamlines reporting / visualization workloads, decreasing the time companies spend creating PowerPoint® and Excel® reports from tabular data.
◆ Reports produced with Rosetta Studio are 100% native PowerPoint® / Excel®.
Why do companies use Rosetta Studio?:
◆ It goes beyond just saving time and money - the accuracy and "living document" aspects of Rosetta Studio simply cannot be achieved with manual report creation.
◆ Rosetta Studio works with tabular data from any source, is easy to learn, and requires minimal interruption to current workflow/processes - making adopting Rosetta Studio fast and cost-effective.
◆ Rosetta Studio users produce higher quality reports in less time, eliminating the tedium so they can focus on insight and depth. Users can provide clients with more reports, faster and at higher profit margins.
What projects are right for Rosetta Studio?
◆ Rosetta Studio is used for both ad-hoc and tracking studies, and projects big and small.
Who should use Rosetta Studio?
◆ From automation staff and dedicated charting/graphics departments, to researchers and executives, Rosetta Studio works well for everyone. End clients can also use Rosetta Studio to interactively alter reports, adding value to deliverables.
◆ Companies of all sizes use Rosetta Studio
........................................
Starfire Consulting LLC provides expert data processing, tabulation services and consultancy to the market research industry and is the global Sales Agency for Rosetta Studio software. Their staff averages 20 years of experience in the MR business, working with companies of all sizes, and on a wide variety of projects.
Interested companies can contact Starfire Consulting to discuss exploring Rosetta Studio, or for any tabulation need.
........................................
Rosetta Studio software enables Market Researchers to create PowerPoint® and Excel® presentations / data visualizations from tabular data in a fraction of the time compared to traditional methods.