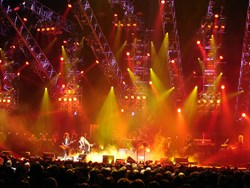 Denver, Colorado (PRWEB) November 18, 2013
The Trans-Siberian Orchestra surged off the stage in 1998. Two years later, due to its exploding popularity across the country, the ensemble was divided into two touring productions, complete with full orchestration and full-blown special effects.
This season's effort, featuring the band's multi-platinum rock opera The Lost Christmas Eve, opened in Toledo, Ohio and in Council Bluffs, Iowa on November 13, 2013. The tour, set for 112 shows in 67 cities and 38 states across America, performed in Denver, Colorado and Manchester, New Hampshire yesterday.
The group hits the EnergySolutions Arena in Salt Lake City, Utah and Charleston Civic Center in Charleston, West Virginia this Wednesday, November 20, 2014.
From there, dates in Boise, Raleigh, Spokane, Columbia, Seattle, Greenville, Portland, Greensboro, Duluth (Georgia), Sacramento, Sunrise, Ontario, Orlando and Las Vegas follow. The wrap is at the American Airlines Center in Dallas, Texas and First Niagara Center in Buffalo, New York on December 30, 2013.
"Created by noted composer Paul O'Neill, The Trans-Siberian Orchestra is his vision for combining "Broadway storytelling with the spectacle of rock'' into a so-called rock opera," said Marta Ault at online ticket marketplace BuyAnySeat.com. "As in past seasons, the show has been selling out on this year's tour."
"That's why we're proud to be able to offer fans the most comprehensive and continuously refreshed selection of concert tickets online, with a worry-free guarantee to protect their purchase.
"In fact, we still have a great selection of Trans-Siberian Orchestra tickets now available," said Ault. "To see the show's complete schedule and purchase tickets, customers can go to BuyAnySeat.com and search for the Trans-Siberian Orchestra – then select their tickets."
Essentially a super sensational sight and sound spectacular, each performance is powered by a progressive rock band with up to 23 musicians. First the music surges forth in a rich combination of classical, orchestral, symphonic, progressive, hard rock and heavy metal harmonies.
Then there's the blazing pyrotechnics and the dazzling lights, lasers and video projections – all perfectly synched to send each performance (and every audience) into a dynamic new dimension.
To date, the Trans-Siberian Orchestra or TSO has performed more than 1,500 concerts to more than ten million fans, and sold over eight million albums in the process. It is also ranked in the top ten best-selling acts of the last decade by Billboard and Pollstar. (Source: wikipedia.org)
Completed in 2004, The Lost Christmas Eve is the final installment of the band's Christmas trilogy and encompasses a run-down hotel, an old toy store, a blues bar, a Gothic cathedral, and their respective inhabitants – all magically intertwined during a single enchanted Christmas Eve in New York City.
The band has released a series of rock operas entitled Christmas Eve and Other Stories. These include The Lost Christmas Eve – as well as The Christmas Attic, Beethoven's Last Night, and Night Castle. "This year we're touring with even more lights, lasers and pyrotechnics plus a few new surprises on the Flight Deck," promises the Trans-Siberian Orchestra's website.
In addition to their extensive annual tours, The Trans-Siberian Orchestra is also known for their extensive charity work.
To shop for Trans-Siberian Orchestra tickets, visit BuyAnySeat.com.
About BuyAnySeat.com: An online ticket marketplace, BuyAnySeat.com connects sports, theater and other live entertainment fans to an extensive worldwide network of ticket sellers. The site's simplified listings and navigational tools enable fans to easily locate, compare and purchase inexpensive, discounted or lower-priced tickets to virtually all advertised sports and entertainment events around the globe.
The marketplace, which is PCI-compliant and Norton Secured, also provides customers with a complete Worry-Free Guarantee on all ticket purchases. Based in Denver, Colorado, BuyAnySeat.com is a subsidiary of Denver Media Holdings. For more information, please visit http://buyanyseat.com.