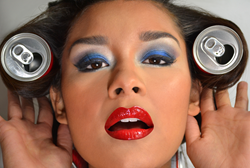 " I want women to feel beautiful, to dress up, wear heels, put their favorite lipstick on even if their just going across the street, be proud of who they are, they have the power in their finger tips" says Daniel.
New York, NY, Houston,TX, Miami, FL, Los Angeles, CA, Chicago, IL (PRWEB) November 18, 2013
Culture Shock Cosmetics, by Venezuelan born Daniel Guillen, best known as Danny of Miami, has launched its new website. The new website provides a user-friendly cosmetic experience, allowing customers access to a new line of glittery and glamorous make-up. The make-up colors in his line truly capture his personality and flare for life, love and happiness. Danny has spent many years creating dazzling hairdos and painting porcelain like faces while keeping note of what was lacking in the products he utilized. With his experience he has corrected and perfected his line through many hours of research and development, ending with a product we know you're going to love. Culture Shock Cosmetics will be supporting the cause of women's empowerment year round but especially during the Holiday Season by providing complimentary makeovers for a few lucky women at a local Women's Shelter.
Stay tuned to Culture Shock Cosmetics via Twitter, Facebook, Instagram & the company's website for a schedule of Launch Parties coming up in Miami, Florida and Houston, Texas in the very near future. The first launch party will be held in Miami on November 27th, 6:00 P.M. inside Drama Salon Boutique, 9100 South Dadeland Blvd., Suite 206, Miami, Florida 33156. Please join us to Welcome, Celebrate, & Preview Culture Shock Cosmetics.
See more at: http://www.cultureshockcosmetics.com.
Danny relocated to Houston from South Beach, Miami. He was trained at the Paul Mitchell School where he competed in the North America Hairstyling Awards (NAHA), America's most prestigious award. In 2008 he worked with Dee Adames, winner of Shear Genius Season 2, and later with Paul Mitchell's National Educator, Johnny Diol. In South Beach he has served as a hair and makeup stylist for the Miami Heat Dancers and the Miami Dolphin's Cheerleaders. Since coming to Houston, Danny's work as been featured in Houston Magazine and the Houston Hair Show. He understands the importance of helping others and volunteers for numerous local charities and inspires others to do the same.
PHOTO CREDIT: LEX LUMIERE
MAGE 1: Culture Shock Cosmetic Products (Left to Right)
IMAGE 2 & 3: Editorial Culture Shock Cosmetics
1-Mineral Bronzer Fierce 2-High Frequency Luster Let , 3-Bold Shadow Void
PHOTO CREDIT: LEX LUMIERE
For further information about Culture Shock Cosmetics, including dates and times for Launch Parties
openings, please
Contact Information:
Daniel Guillen
Phone: 888-581-4441
Email: cultureshockcosmetics(at)gmail(dot)com
https://www.facebook.com/CULTURESHOCKCOS
http://instagram.com/cultureshockcosmetics
https://twitter.com/CULTURESHOCKCOS