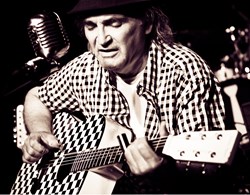 One of the finest American guitar players on the road today. - Jim Reed / Savannah Connect
Austin, Texas (PRWEB) November 19, 2013
For Eric Sommer, like most guitar players and pop/Americana artists, a few days at home in a warm horizontal bed with a little coffee and some decent reading material could be considered an ideal activity.
For Pop/Americana Artist Eric Sommer, it's a foreign concept.
Home? None. Horizontal bed? Nix that too. Coffee? Only if it's one of those "To Go" cups with that weird Greek piping around it. Nope, Mr. Sommer stays on the road, period.
So it will come as no surprise to hear Mr. Sommer has found a wagon train, conjured up a few hundred head of Texas beef, and plans to drive said Wagon Train into The South First Food Court on November 22.
Yes - Pop Americana Artist Eric Sommer drives the wagon train to The Slab Music Series in Austin, Texas on Nov 22, and plans to herd the cattle every Friday evening before his set on The Slab.
Leading this Wagon Train is a Chevy Blazer carrying 9 nine guitars, 6 amps of various sizes, a full PA and road cases with all required cables and gizmos needed to put together a first rate show. It's unclear as to Mr. Sommer's range skills even though – as he says himself – "Everything about horsin' an' cattle drivin' I learned from Rowdy Yates on Rawhide."
The Chevy Blazer pulls lead position in this wagon train because it has 471,000+ miles on it. Not many steers can pull that cred, but a lot of steers respect it. Mr. Sommer will gladly show the mileage to anyone. Just ask.
But what is crystal clear is the fact that Eric Sommer is one hellaciously fine singer and guitar player and a testament to the great American Soul of open road adventurin' with guitars and amps a-plenty and a pocket full of songs, stories and authentic guitar skills.
Eric will bring all this together on Friday, Nov. 22 starting around 7pm on The Slab at The South First Food Court at 603 W. Live Oak in Austin, Texas.
San Marcos, Texas will get a little out of this as well. The venerable groove center of the East Texas Music Universe is arguably The Triple Crown, in San Marcos, and Eric Sommer will be there for two shows while chasing steers in the Land of Texas. Mr. Sommer is in San Marcos on Thanksgiving Day, November 28th around 6pm and again on December 11, 6pm as well... The Triple Crown is located at 206 N Edward Gary St. San Marcos TX 78666.
Sommer is also the author of two collections of prose and commentary titled "Red Chairs" and "Black Pancake." Red Chairs celebrates the American experience with candid views of rural and industrial American life on the urban plains and the title poem is about "Waffle House." Black Pancake references a huge black thundercloud that hovered over the town of Newburgh, New York in the Hudson Valley.
These songs are visual fabric to the American narrative of freedom and creative expression, making message and content work effortlessly with technical skill and musical inventiveness. It's a remarkable combination.
The Slab Music Series in a unique music series whose inaugural shows begin this November and occur every Friday evening on "The Slab" which is at the far end of the South First Food Court located on The Slab at 603 W. Live Oak in Austin.
Eric started his musical career in the Boston area and has been a regular player on many national tours and showcases. He worked in Europe for two years on Danish, German and British rock stages, returned to Boston and formed The Atomics, a cult power-pop band in South Boston. His influences are as diverse as Townes Van Zandt, Steve Earle, Steve Howe and The Ramones. Mr. Sommer's current project with power trio "The Solar Flares" shake up Chet Atkins and David Bromberg influences with those of Randy Travis and British Rocker Elvis Costello - a remarkable mix.
With open tunings, slide guitar, lap-slap tone guitar and a remarkably aggressive fingering style approach, watching Eric Sommer will make you jump out of your seat and holler for joy. There are very few players who have maintained this authentic American style of guitar and Eric Sommer is one of the very best.
For music samples, please visit Eric Sommer online for additional schedules or contact him at eric(at)ericsommer(dot)com or call 202-255-1995. Additionally, you can find Eric Sommer on Facebook@ericsommermusic and twitter@itsericsommer. RAINY DAY KARMA is also available on iTunes and CDBaby.
Eric Sommer is represented by Clyde is Thinking, and PR programs are managed thru MTG/NY; For more information, promo/appearance requests or to set up an interview, please contact Tom Monihan 202-255-1995.