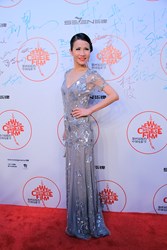 We are at the dawn of the golden age of the Chinese filmmaking!
New York, New York (PRWEB) November 19, 2013
CHINA HAPPENINGS™ is pleased to announce that its founder Chiu-Ti Jansen attended the opening night red carpet ceremony of the Fourth New York Chinese Film Festival at the Alice Tully Hall of the Lincoln Center. Other VIP guests included Oscar-winning American filmmaker Sid Ganis and Ambassador Sun Guoxiang, Consul General of the People's Republic of China in New York.
Co-organized by the Chinese American Arts Council and China Central Television Movie Channel (CCTV-6), the Fourth New York Chinese Film Festival featured acclaimed talents and filmmakers such as Wesley Wong, Wu Xiubo, Larry Yang, Donnie Yen, Miriam Yeung and Zhao Wei. The opening night also marked the U.S. premiere of SO YOUNG, the directorial debut of China's leading actress Zhao Wei.
Chiu-Ti Jansen, Founder of the CHINA HAPPENINGS™ brand, commented: "China's movie industry is experiencing an explosive growth and is fast becoming one of the largest in the world. Its consumptions and productions are moving by leaps and bounds. We are at the dawn of the golden age of the Chinese filmmaking! I am delighted to be part of this special event that introduced contemporary Chinese movies to the Western audience and overseas Chinese alike."
Ms. Jansen wrote about the opening night and China's nostalgia for youth, as seen through Zhao Wei's SO YOUNG, her blog titled CHINESE ELEMETNS for Sotheby's (http://www.sothebys.com/en/news-video/blogs/all-blogs/chinese-elements/2013/11/film-festival-spotli.html). The opening night was widely reported in the Western and Chinese media:
http://www.gettyimages.ca/detail/news-photo/chiu-ti-jansen-attends-the-4th-new-york-chinese-film-news-photo/187054046
http://news.xinhuanet.com/overseas/2013-11/07/c_125663611.htm
CHINA HAPPENINGS™
CHINA HAPPENINGS™ is a multimedia platform founded by Chiu-Ti Jansen that focuses on the lifestyle and cultural industries in contemporary China. Ms. Jansen is a TV presenter, a lifestyle magazine publisher and a writer based in New York City with a pulse on China. She hosts TV and video presentations on fashion and style for Phoenix TV, Phoenix Fashion and SINA Fashion, and writes a blog titled CHINESE ELEMENTS for international auction house Sotheby's (http://www.sothebys.com/en/news-video/blogs/all-blogs/chinese-elements.html) and a fashion and style column titled NEW YORK IN STYLE for the Financial Times' Chinese edition (http://www.ftchinese.com/column/007000053). Prior to founding CHINA HAPPENINGS, Ms. Jansen was a New York-based corporate partner of an international law firm. A native speaker and write of Mandarin Chinese, Ms. Jansen holds advanced degrees from Yale University and Columbia Law School and serves on the Contemporary Art Advisory Committee of China Institute in America and the Board of the Couture Council of Museum at the Fashion Institute of Technology (FIT).
PRESS CONTACTS: info(at)chinahappenings(dot)com