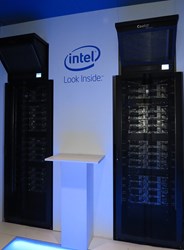 Working with CoolIT Systems to integrate their innovative liquid cooling solution was critical to deploying the cluster.
Calgary, Alberta (PRWEB) November 18, 2013
Intel has selected CoolIT Systems to liquid cool a high performance compute cluster that will showcase Intel's latest technology at SuperCompute'13 in Denver this week. CoolIT's Direct Contact Liquid Cooling (DCLC™) system has enabled Intel to deploy a High Performance Compute cluster that will run live at Intel's Booth #2701.
Intel's demonstration cluster proves that readily available hardware can compete in a space that was once reserved for only the most specialized supercomputer hardware manufacturers. The impressive cluster features 9936 cores reaching 131.2 Teraflops ranking this system 400th on the Top500 list of Supercomputers in the world as announced today. Perhaps even more impressive is that the system only consumed a total of 74.25kW of power. Each SuperMicro® FatTwin™ node features dual Intel® Xeon® Processors and three Intel® Xeon Phi™ coprocessors resulting in over a kilowatt of heat per node for CoolIT to manage.
"Integrating CoolIT's Rack DCLC™ technology into our demonstration cluster allows us to showcase the capabilities of an Intel® Xeon Processor and Intel® Xeon Phi™ coprocessor based supercomputer live on a trade show floor," said Joe Curley, Director of Marketing for Intel's technical computing group. "Working with CoolIT Systems to integrate their innovative liquid cooling solution was critical to deploying the cluster, even in an environment that doesn't have the cooling capabilities of a data center."
CoolIT's Rack DCLC™ AHx™ solution is a rack-based liquid cooling solution that enables high-performance and high-density clusters anywhere, without the requirement for facility liquid to be plumbed to the rack. The unique AHx configuration consists of a cooling liquid network that is mounted directly onto the processors of the super-computer. This system allows the processor heat to be directly absorbed into circulating liquid, which then efficiently transports the heat to a liquid-to-air heat exchanger mounted on the top of the rack. This stand-alone rack solution is modular and is compatible with any rack-computing set-up, enabling ultra-high density clusters to be deployed quickly and easily without the complexity of integrating with facility liquid or chiller systems. The system is configured with all metal, Stäubli dry-break quick release couplings allowing for reliable and convenient servicing of the individual node modules without the need for a service technician. Once deployed, the cooling system can be directly monitored with the touch screen interface, or remotely through standard networking interfaces.
"Intel continues to impress with every new development in processor technology," said Geoff Lyon, CEO and CTO of CoolIT Systems. "This demonstration system really showcases an economical supercomputer that achieves world-class performance at truly impressive power efficiency. It is one thing to build a 131 Teraflop Top-500 heterogeneous cluster, it's another thing to have it running in two stand-alone racks on a trade show floor, peaking at under 75kW of power. The advantages of liquid cooling are now becoming a practical and economical option for today's datacenter."
Lyon added: "With the support of our valued partners, Stäubli (Staubli.com) and Microcool (Microcooling.com), CoolIT has been installing rack-based solutions for a little over a year and we're delivering over 500 racks of liquid cooling systems this quarter alone. It would seem that the industry is truly starting to embrace the benefits of direct contact chip cooling."
About Intel
Intel is a world leader in computing innovation. The company designs and builds the essential technologies that serve as the foundation for the world's computing devices. Additional information about Intel is available at newsroom.intel.com and blogs.intel.com.
Intel, the Intel logo and Core are trademarks of Intel Corporation in the United States and other countries.
About CoolIT Systems
CoolIT Systems is a supplier of industry leading Direct Contact Liquid Cooling (DCLC™) solutions for the HPC, Cloud and Enterprise markets. As a market leading engineering company, CoolIT has been dedicated to the invention and design of state-of-the-art liquid cooling technology since 2001. With 43 patents and over 1 million direct contact liquid cooling (DCLC) units deployed in desktop computers, servers and data centres around the world, our vision is to remain the global performance leader in direct-contact liquid cooled I/T solutions.
All trademarks and registered trademarks previously cited are hereby recognized and are the property of their respective owners.
For further information related to the media, please contact marketing (at) coolitsystems (dot) com.