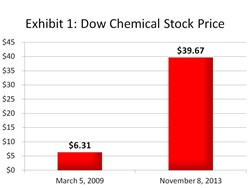 Midland, MI (PRWEB) November 18, 2013
As we approach the five-year anniversary of the "Great Recession", Dr. Timothy G. Nash, vice president for Strategic and Corporate Alliances and the David E. Fry Endowed Professor in Free Market Economics at Northwood University, examines actions taken by The Dow Chemical Company to survive the turbulent economic climate of at that time and emerge as an industry leader, outperforming the S&P 500 and Dow Jones Industrial Average for the five-year period. Dr. Nash's detailed analysis and opinion highlights four key elements crucial to Dow's ability to avoid bankruptcy or closures during a tumultuous economic period that nearly plunged the United States and world economies into a second Great Depression.
In early 2009, Dow's leadership team and board of directors found itself in the middle of an "economic perfect storm" -- a storm no one had predicted, according to Dr. Nash.
"Upon careful reflection, I am not sure any of us truly realize the level of courage, vision and leadership it took to steer Dow through the turbulent times leading to its current position as a world leader--not only in the chemical industry--but in manufacturing, in general," Dr. Nash stated in his analysis.
ABOUT NORTHWOOD UNIVERSITY
Northwood University is committed to the most personal attention to prepare students for success in their careers and in their communities; it promotes critical thinking skills, personal effectiveness, and the importance of ethics, individual freedom and responsibility.
Private, nonprofit, and accredited, Northwood University specializes in managerial and entrepreneurial education at three full-service, residential campuses located in southern Florida, mid-Michigan and northern Texas. Adult Degree Programs are available in eight states with many course delivery options including online. The DeVos Graduate School offers day, evening and weekend programming in Michigan, Texas and Florida. The Alden B. Dow Center for Creativity and Enterprise provides system-wide expertise in family enterprise, entrepreneurship, creativity and innovation, and new business development. International education is offered through study abroad and in Program Centers in Switzerland, China (Changchun and Wuxi), Malaysia and Sri Lanka.