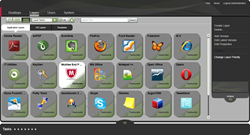 Marlborough, MA (PRWEB) November 18, 2013
Unidesk Corporation, provider of the leading platform for deploying and managing Microsoft Windows® desktops in the cloud, announced today that it has entered into a distribution agreement with Promark Technology, an Ingram Micro company and premier value-added distributor of data center solutions. Under the terms of the agreement, Unidesk® Virtual Desktop Infrastructure (VDI) management software is now available to Promark's vast portfolio of value-added resellers (VARs) in the United States through a dedicated distribution sales team. With Unidesk, Promark's VARs will be able to accelerate Citrix XenDesktop® and VMware Horizon View™ implementations and target new use cases that were previously closed to VDI.
Unidesk announced the Unidesk Certified Solution Partner (UCSP) program earlier this year to help partners profit from the maturing VDI market and increasing demand for desktop virtualization. By partnering with Promark, Unidesk expands its distribution network and further strengthens its partner-centric channel strategy.
Promark holds a General Services Administration (GSA) schedule and distributes solutions through a two-tier distribution channel that resellers can use to sell products to government customers even if they do not hold a GSA contract themselves. Promark also has experience helping other high-growth technology companies such as Unidesk VDI alliance partner Nutanix scale and expand their distribution network.
Unidesk is a converged VDI management solution that combines desktop provisioning, image management, application virtualization, personalization, and storage optimization into one, easy-to-use platform. This all-on-one solution is made possible by Unidesk's patented desktop layering technology, which enables desktops to be created by mixing and matching reusable sets of operating system and application "layers." The elegance and flexibility of layering eliminates the multiple point tools and consoles that have made VDI too hard to deploy for many organizations, and brings new levels of efficiency to the management of Microsoft Windows. Integrations with Citrix XenDesktop and VMware Horizon View enable Unidesk-managed virtual desktops to be accessed through the two leading VDI connectivity platforms.
"Unidesk is serious about the channel," said Brian McDonough, vice president of sales, Unidesk. "We've proven to our UCSP partners that every dollar they sell of Unidesk creates ten dollars of server, storage, and thin client drag. This agreement with Promark extends our reach to desktop virtualization-focused partners looking to utilize disruptive, next-generation layering technology to open new doors and to further enhance their position as a trusted advisor to their clients."
"We've been eager to kick-off our distribution relationship with Unidesk," said Dale Foster, general manager, Promark Technology. "Unidesk is a significantly more efficient and elegant solution for deploying and managing virtual desktops compared to first-generation offerings, which is sure to be well received by Promark's VARs and their customers."
About Unidesk Corporation
Unidesk is enabling the movement of Microsoft Windows® desktops to the cloud. Unidesk's patented desktop layering software is the only effortless way for IT organizations to deliver applications, manage images, sustain user customizations, and optimize storage for Microsoft Windows® desktops virtualized on VMware vSphere®. Hundreds of Citrix XenDesktop® and VMware Horizon View™ customers use Unidesk to make VDI provisioning and Windows management elegantly simple. Unidesk is a privately held company headquartered in Marlborough, Mass., with authorized solution partners around the world. For more information, visit http://www.unidesk.com.
About Promark Technology
Promark Technology, an Ingram Micro company, is one of the premier value added distributors (VAD) in the United States. Promark's core technology focus is distributing data storage and virtualization products and solutions through a two-tier distribution channel to value added resellers (VARs) and system integrators. Promark leverages its direct relationships with world class technology partners to provide solutions that meet the most demanding needs of its customers. Promark offers professional services in application integration, backup and recovery, network optimization, storage implementation and disaster recovery. To learn more about Promark Technology call 800.634.0255 or visit http://www.promarktech.com.