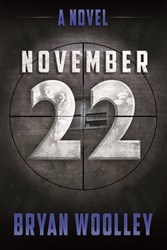 Woolley captures the mood of the city brilliantly.
Dallas, Texas (PRWEB) December 21, 2013
Need a "stocking stuffer" for the history enthusiast? Try the JFK 50th Commemorative Edition of "November 22, A Novel" (Brown Books Publishing Group) by respected news journalist Bryan Woolley.
Through a myriad of characters both real and reinvented, Woolley, a former Associated Press correspondent and journalist for the Courier-Journal in Louisville, the Dallas Times Herald, and the Dallas Morning News, offers readers an inside look into the volatile atmosphere of Dallas in 1963 politically, socially, and religiously, resulting in a rich cross section of a city more complex and diverse than many observers have been willing to acknowledge.
Don Graham, J. Frank Dobie Regents Professor of American and English Literature, University of Texas at Austin says, "He describes, in microcosm, how the world changed in the twinkling of an eye and peers into the shifting lives of all the people affected by this shattering event."
Woolley notes, "Although the tragedy at the core of 'November 22' actually occurred, this story is fiction, and most of its characters are figments of the author's imagination. I owe it to the reader to emphasize that while the scenes in which they appear are real, the words they speak are fictitious. I have tried to be accurate in my portrayal of Dallas life at the time."
To learn more, or to order an autographed copy, visit: http://www.November22Novel.com.
Books are available online, e-Book, and in bookstores––hardcover formats.
About the Author
Bryan Woolley began his writing career on the staff of the El Paso Times when he was a teenager. After earning degrees at the University of Texas at El Paso, Texas Christian University, and Harvard, he served as an Associated Press correspondent in Tulsa, Oklahoma, and then as city editor of the Anniston Star in Alabama. In 1969 he joined the Courier-Journal in Louisville, Kentucky. In 1976 he moved to the Dallas Times Herald, and in1989 to the Dallas Morning News, where he worked until his retirement in 2006. He has published four novels, including November 22. He lives in Dallas with his wife, the poet Isabel Nathaniel.
About Brown Books Publishing Group
Founded by Milli Brown in 1994, Brown Books Publishing Group is a full-service, independent publisher of high-quality books across all genres, from non-fiction to fiction. Committed to producing award-winning books for authors who choose to retain the rights to their intellectual property, Brown Books publishes more than one hundred titles a year and has won numerous, prestigious awards including the Writers Digest Grand Prize, Mom's Choice Award, Foreword Book of the Year, Gold Ink Award, Axiom Business Book Award and many more. Brown Books authors have appeared on programs such as Piers Morgan Live, Oprah, the Today Show, FOX News, Face the Nation, CNN, and BBC News. They have been featured in publications such as USA Today, Publishers Weekly, and the New York Times. In addition, they have been guests on NPR programming, including The Diane Rehm Show, Morning Edition, The Takeaway, and Tell Me More. To learn more, visit: http://www.brownbooks.com.