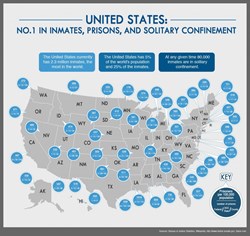 Bethesda, Maryland (PRWEB) November 20, 2013
Online prison database and resource Prisonpath.com, which celebrated its one-year launch last month, releases its 2013 United States Prison Rates Infographic today. The United States remains the number one country in the world for number of inmates, prisons and and prisoners in solitary confinement.
*The United States has 2.3 million inmates in federal, state, and local prisons. This is the highest per capita rate of incarceration in the world.
*The United States incarceration rate is five times the rate of incarceration in England, eight times the rate in Germany, and 12 times the rate in Japan.
*There are 4575 prisons operating today in the United States. This is more than four times the prisons in Russia. Russia currently holds second place in this category with 1029 prisons.
PrisonPath.com has grown steadily as the go-to resource for the families of inmates and first time nonviolent offenders. It provides crucial information for free about county, state and federal prisons and jails throughout the United States. The number of monthly visitors has grown to 50,000 visitors every month.
The founder, B.D. Schwartz, at the age of 62 was incarcerated for 15 months in the Maryland state prison system as a first time, non-violent offender. After experiencing a small taste of solitary confinement for 3 days, he felt that further discussion is needed about this controversial punishment in the United States and created the United States No.1 infographic.
"While you read this press release about 80,000 inmates continue to endure solitary confinement daily throughout the United States. The mental damage from long term solitary confinement can be devastating. An inmate released after suffering prolonged solitary confinement can have psychological damages which will affect his successful reentry into society."
About PrisonPath
Prisonpath.com is a free national prison directory and inmate locator. Created by a former inmate, Prisonpath.com provides free information about prisons and jails throughout the country to the families of inmates. For more information, please e-mail, info(at)prisonpath.com