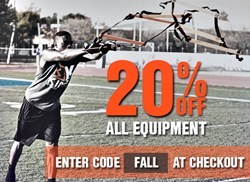 Dallas, Texas (PRWEB) November 18, 2013
Speed and agility equipment brand, King Sports, is offering 20% off of all equipment for a limited time.
Widely known for their speed and agility kit, King Sports has provided training solutions for over 10,000 coaches and hundreds of thousands of athletes. It is the unique style of speed training that has been developed by company founder Bob King.
As a coach, King has won 3 Super Bowls, 2 Olympic Gold Medals, 1 Silver Medal and several Texas high school football state championships. He was one of the first strength coaches in NBA history and was a published author along side other colleagues.
Speed and agility training helps with:
Acceleration
Balance
Quickness
Change of direction
Top end speed
"Everything is connected in athletic development and we find that the best results come a from a comprehensive training program," says King "It is important to know how your training program is building towards and end goal, and how all the components fit together."
The speed and agility ladder can be used by any level athlete, while many advanced athletes combine different types of equipment for increased intensity. The King OverSpeed resistance belt is used with virtually every drill to create a greater deal of resistance.
This equipment is available at the King Sports Website.