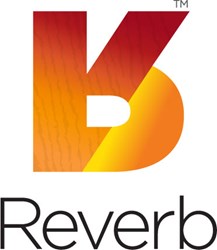 Starting withconcepts and ideas on a Word Wall, Reverb creates an experience that gives a great overview of the news landscape, and makes it easier to dive deeper with a single tap. Reverb is a discovery tool hidden inside an intuitive and elegant reader.
San Mateo, Calif (PRWEB) November 20, 2013
Reverb today announced the Reverb app for iPad, a completely new way for people to keep up with the topics and news most relevant to them. Reverb is the first app to understand the underlying concepts in content, summarize trends by topic, and organize highly relevant stories into separate 'views' for top news, social streams, and personal interests from leading sources around the world. A fun new spin on browsing, Reverb's groundbreaking 'Word Wall' navigation finds and groups content into topics that are displayed on a customized wall that updates in real time. People can quickly scan emerging topics, tap an interesting topic to browse articles, read articles, and explore related articles and topics. Reverb makes diving into an immersive reading experience highly personalized and leads you from one interesting story to another. Reverb's connections between content and ideas feel natural and human – not cold and algorithmic. The Reverb app for iPad is available now and can be freely downloaded via the App Store.
"With the Reverb app, we wanted to use our longstanding expertise in discovering meaning to enable lots of "aha!" moments for readers," said Erin McKean, founder of Reverb. "We were looking for the same effortless experience you get from music recommendation services … you can read what you like, and find new and interesting content, too. Starting with the concepts and ideas on a Word Wall, Reverb creates an experience that both gives a great overview of the news landscape, and makes it easier to dive deeper with a single tap. Reverb is a discovery tool hidden inside an intuitive and elegant reader. With Reverb, you always find something you didn't know you wanted to know."
Reverb sorts and prioritizes articles into three separate content 'streams' that help people effortlessly discover more of what they want to read and less of what they don't: a 'me' stream for personalized interests and stories; a 'friends' stream that collects articles shared through social network connections, and a 'news' stream that keeps you on top of breaking news from tier-one sources around the world.
With its 'Word Wall' navigation, Reverb makes exploring each content stream simple and fun. Reverb's Word Walls highlight the trending or important concepts in each stream, encouraging readers to dive into stories that catch their attention or explore collections of articles around specific interests. With just a tap on any word, the app provides the most interesting stories related to each person's most relevant topics. The more the app is used, the more personalized it gets, replacing information overload with information satisfaction.
A typical path through the Reverb app is full of surprising discoveries. A reader can start with her 'friends' stream to catch up on articles shared by the people she follows on Twitter. She sees the concept 'Sandra Bullock' in her Word Wall and taps it to browse stories her connections have tweeted about the actress. She not only sees the shared articles, but also stories and concepts related to the topic, including articles about 'Gravity' the movie, the International Space Station, George Clooney, NASA, Spacewalking, and Keanu Reeves. After reading any of the related stories, the concept of 'Sandra Bullock' then appears in her 'me' Word Wall, reflecting her interest in the topic.
"Reverb emphasizes just how effective the right navigation and organization can be in giving readers delightful content discovery. Browsing through collections of content in a more visual, 'human-touch' way creates an experience where people can actually see their Word Walls becoming more personalized right in front of their eyes," said Tony Tam, CEO of Reverb. "Reverb is an app that transforms the expectations for what a content discovery tool can do and comfortably navigates people to a place where they can discover, read, and share the stories they really care about."
With Reverb, people can:

Organize Social Feeds by Topic: Connect to Twitter and Facebook to see what your friends are sharing, sorted and prioritized by what's most relevant to you. Reverb helps people keep up with the ever-growing amount of important content shared through their social networks.
Discover Content Effortlessly: With just a tap, you can browse a Word Wall, sift through collections of stories around specific interests, or dive into related stories.
Read and Explore Related Stories and Topics: Reverb discovers related stories and ideas for limitless exploration and browsing.
See Story Feeds Related to a Location: Reverb's location feature discovers stories related to the area a person is in -- giving quick access to fun local information. Drop a pin anywhere on the Reverb map and the app will find interesting related content specific to that location.
Reverb for iPad is available for free from the App Store.
About Reverb
Reverb connects people with the meaningful content that matters most to them. Founded by the creators of Wordnik, the world's largest online dictionary, Reverb's concepts and word graph find and connect the rich associations between words, ideas, content, and people. With applications and services for consumers, publishers, and developers, Reverb surfaces compelling content driven by relevant connections to the topics a person cares most about. Built by a team of enterprise architecture, social networking, mobile web, computational linguistics, and lexicography experts, Reverb's products include the Reverb App, Wordnik.com, Reverb for Publishers, and Swagger. For more information please visit helloreverb.com, or follow us on twitter at @Reverb.