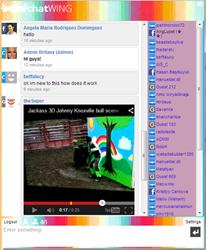 New York, NY (PRWEB) November 18, 2013
After launching the social sharing feature, the development team has observed that a large percentage of Xanga users have resorted to the Chatwing chat app. To increase awareness regarding the social sharing feature, Chatwing developers have reached out to dozens of Xanga bloggers. The developers have applied the following strategies in Xanga:

Importance of social sharing chat software. By emphasizing the importance of the feature, Xanga users have managed to learn more about the chatroom's importance to web traffic. The social sharing option allows Xanga users to share their important conversations to their peers. In this way, information can travel fast with little hindrance at all.
Social media connectivity. Social sharing is all about social networking. In many Chatwing chatrooms, moderators have shared various tips about empowering social media connections. The chat app's social feature offers leverage for Xanga users, thus increasing the exposure of their blogs and websites. Based on the systematic study done by Chatwing Team, the social sharing feature can increase website exposure by up to 70%. Many outlying factors are included in this statistic.
Informative content. Chatwing chat room developers know about the power of content. By creating numerous blog posts, Xanga users have learned more about the social sharing option. The content posted by the team is, commonly, about the proper usage of social trends and the importance of sharing conversations. Additionally, the team has also revealed that the social sharing feature can be turned off using premium coins.
The company will continue posting content in Xanga. In this way, users will gain more information about the premier widget. The company also has updates posted in Facebook and Twitter.
About Chatwing.com
Chatwing.com is a company that has brought innovation to the modern chat widget. Operating for more than five years now, Chatwing and its team of developers have dozens of ideas ready to be introduced to the public. The Chatwing chat app is an easy-to-use online tool that can help web users interact with each other and can also generate continuous traffic. Chatwing will always be a "freemium" application for everyone.