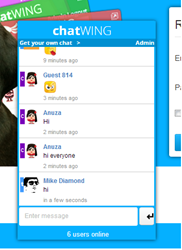 Miami, FL (PRWEB) November 22, 2013
After reviewing client demands, Chatwing Development Team has decided to discuss the direct file upload system. Through this feature, users will be able to upload photos and videos, so others can download them. In a nutshell, the Chatwing chat app can be turned into a file-sharing widget once the upgrade is implemented. Listed below are the positive facets that are covered by the direct file upload system:

Increased exposure. Small entrepreneurs can have better online exposure with the help of a direct file upload. Aside from discussing the product in the chatroom, the owner can now share a video or a snippet containing important information. Chatwing developers have estimated that the exposure rate can go as high as 50%, and other connectivity factors are not yet included.
Faster propaganda. Advocacy sites also rely on chatrooms, now more than ever. According to Chatwing data, advocacy site owners have contacted the team regarding the importance of a chat widget. Most of them have also asked for installation tutorials. The direct file upload can help advocates in spreading their cause or message. If needed, the advocates can send white papers of their cause to interested people.
Mobile reliability. Chatwing Mobile is being processed as of the moment, and the team expects that it will be launched in November. The direct file upload feature will make things easy for the mobile user. Now, he can share files on the go. Mobile reliability is imminent, and Chatwing Team will run several tests.
Upon completion of the chat room feature, the company will share updates in all of its networks. Therefore, registered users and interested people can take a sneak peak of the chat software in Facebook and Twitter.
About Chatwing.com
Chatwing.com is a company that has brought innovation to the modern chat widget. Operating for more than five years now, Chatwing and its team of developers have dozens of ideas ready to be introduced to the public. The Chatwing chat app is an easy-to-use online tool that can help web users interact with each other and can also generate continuous traffic. Chatwing will always be a "freemium" application for everyone.