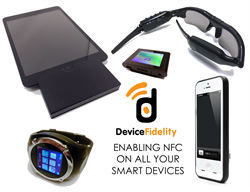 Paris, France (PRWEB) November 18, 2013
DeviceFidelity, Inc., a leader in secure mobile transaction solutions, will be showcasing the widest array of NFC enabled, certified secure transaction solutions for smartphones, tablets and wearable devices at the Cartes 2013 conference in Paris this week. The exhibit will include the industry's only Visa and MasterCard certified NFC microSD solution and the world's first iPhone NFC solution that is certified by all four leading payment networks. In addition, several new products will be unveiled, including the industry's first NFC enabled mobile POS solution for iPad mini and iPad Air, as well as the first iPhone NFC accessory that uses a UICC (SIM) card as Secure Element alongside an entire range of wearable accessories that are NFC enabled and secured by DeviceFidelity technology. DeviceFidelity will demonstrate how its proven and certified portfolio ensures rapid adoption of state of the art secure technologies on Billions of existing and upcoming smartphones, tablets and wearable devices.

Secure NFC microSD: Starting with the Credense microSD solution, the world's first and only NFC microSD that has received global certifiaction from Visa and MasterCard. The CredenSE solution includes a secure element and an innovative 3D NFC antenna packaged into a regular microSD form factor that provides industry leading read range performance. Attendees can bring any mobile device with a microSD slot and DeviceFidelity will enable it on the spot, showing how CredenSE plugs in and provides NFC and Security capabilities. DeviceFidelity will also highlight how CredenSE NFC microSD integrates with Google's latest innovation with Host Card Emulation on the KitKat Android platform.
Secure iPhone Accessories: At Cartes 2013, DeviceFidelity will be introducing the world's first iPhone NFC accessory for the iPhone 5S/5 that utilizes a UICC (SIM Card) as a Secure Element. The DeviceFidelity iCaisse platform brings a wide portfolio of NFC products that have been globally certified by Visa, MasterCard, American Express and Discover. On display will be DeviceFidelity's own iCaisse4L and iCaisse4X with battery back-up, along with Incipio's sleek CashWrap4 and CashWrap5 in multiple colors and the world's only ruggedized iPhone NFC accessory – the Defender NFC from Otterbox.
NFC Mobile POS: DeviceFidelity has multiple patents granted for NFC Mobile POS for tablets. DeviceFidelity will be unveiling a universal NFC Mobile POS concept that becomes the world's first product to combine NFC acceptance, Secure encrypted Magstripe acceptance and a Secure Element running POS functionality into a unique form factor styled for the iPad mini and iPad Air. Attendees can bring NFC enabled phones with live credentials and see the iPad Air process a test Mobile POS transaction on the spot.
Wearable Technology: DeviceFidelity's patented Secure CredenSE microSD can also enable NFC Mobile Wallet, Mobile Security and Mobile Identity applications on wearables such as smart watches, keychains, glasses and MP3 players. DeviceFidelity will be showcasing an entire range of such NFC enabled wearables, including smartglasses, smartwatches and smart audio players.
Attendees at Cartes 2013 will also have several opporutnities to hear from DeviceFidelity's management team during various sessions. A list of DeviceFidleity speaking events at Cartes 2013 follows:
DISRUPTIVE MODELS – microNFC for Mobile POS – Presentation by Deepak Jain, CEO DeviceFidelity. Wednesday Nov 20th, 2013, 2:00PM – 2:30PM, Best Practices for mPOS Acceptance, Room 502
smartSD: Connect, Store, and Transact Securely – Panel with participation by Fabrice Jogand-Coulomb, VP Products, DeviceFidelity and Chair of SDA GP Ad Hoc Committee. Wednesday Nov 20th, 2013, 12:30PM – 1:30PM, Workshop, NFC Room 2.
Physical Cards and Virtual Cards in a Mobile World – Panel with participation by Deepak Jain, CEO DeviceFidelity. Thursday Nov 21st, 2013, 2:00PM – 3:30PM, Digital Wallets and eMoney: Whats's new, Room 504.
Come visit the DeviceFidelity Booth 4N-203 to see the exciting portfolio and discuss with DeviceFidelity management your views on the future of mobile transactions.
About DeviceFidelity:
DeviceFidelity, Inc. develops plug-and-play technologies that empower a variety of institutions to deploy their NFC and mobile security services and applications on millions of mobile phones worldwide. Its patented CredenSE microSD and iCaisse for iPhone solutions transform popular mobile phones into an interactive and secure transaction device. Committed to bringing innovation to the mobile phone, the company launched moneto, the world's first NFC based multi-platform mobile wallet in the US, which has now be expanded to the DeviceFidelity Mobile Money platform – a turnkey solution for prepaid program managers. DeviceFidelity is a private corporation with headquarters in Richardson (Texas) and offices in San Mateo (California), and Aix-En-Provence (France). For more information visit http://www.devicefidelity.com, follow us on Twitter @devicefidelity and at facebook.com/DeviceFidelity.