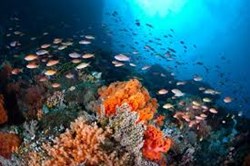 Frugivorous & Habitat @ Scien.net
Bad Honnef, Germany (PRWEB) November 19, 2013
The aim of the Natural Sciences Bibliographic Web Portal including its new Frugivorous and Habitat Bibliography is to provide comprehensive scholarly information on the basic and applied life, earth and health sciences. While the publishers target to publish a total of over 9 million references, the site has now crossed the 1 million benchmark and currently publishes about 10,000 new items every day. Every reference consists of basic bibliographic information and the summary of the publication's scientific content. Furthermore, each reference is tagged with up to twenty scientific keywords.
The Food Section contains scientific information on any nutritious substance that people and animals eat or drink, but can also be absorbed by plants, in order to maintain both life and growth. Food items are typically of plant or animal origin, and they contain nutrients that are essential for the nutritional support of the body, including carbohydrates, vitamins, minerals, fats, and proteins. Food is ingested by the organism, and the nutrients will be assimilated by the cells within the body to produce energy, stimulate growth, and maintain life. The latest content in this category is also available through a Food RSS feed. The section currently contains almost 29,000 posts and is subdivided into the ten categories Ecological, Forage, Frugivorous, Habitat, Microbe, Nutrition, Residue, Toxicity, Vegetable and Vegetation.
Within this section, the new category Frugivorous contains scientific information on frugivores, which are animals that eat fruits. Being a frugivore is very common among mammals, because approximately twenty percent of all mammals (that are herbivores) also eat fruit. Animals that are frugivorous are highly dependent on the abundance of fruits in their habitats, because fruits make up a big part of their diets. Frugivores are known to benefit fruit-bearing plants through dispersing their seeds, but they are also known to negatively affect these plants because they digest the seeds along with the fruits that they consume. The category contains over 30 newly published posts of which the very latest inclusions are also available through an Frugivores RSS feed. It features posts on the dietary regime of myomorphic rodents of the equatorial forest region of M'Baiki in the Central African Republic, avian fruit removal effects of fruit variation, crop size and insect damage, and on relationships between alien plants and an alien bird species on Reunion Island.
The new category Habitat contains scientific information on the natural home or environment of a specific animal, plant, or other kinds of organisms, where they get their food supplies and dietary requirements. The food preference and dietary needs of various animals, organisms, and plants often depend on their habitat. There are many kinds of habitat, including forest, desert, grassland, the arctic tundra, seawater, and freshwater. Among the kinds of habitats there are also subcategories, such as the deciduous forests, coniferous forests, rainforests, chaparral, taiga, and more. This new category contains over 1,040 newly published posts of which the very latest inclusions are also available through a Habitat RSS feed. It features posts on diurnal activity patterns of flower flies in an Illinois sand area, distribution status, habitat and food of the urial ovis (Orientalis punjabiensis) in the Punjab of Pakistan, and on distribution of the macrophytes of lake Yojoa of Honduras.
While the publishers of the web portal have a stock of 8,659,374 references, this information will be made successively available to the public. The site has presently published a total of 1,006,550 posts online and the number of published bibliographic resources increases by about 10,000 items every day. All items are interconnected with currently 423,690 scientific tags. The publishing status is reflected in the site's continuously updated tagline.