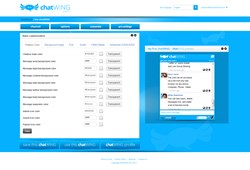 San Antonio, TX (PRWEB) November 23, 2013
Chatwing Company is planning to upgrade its widget's customization options by putting more background themes. However, the recent themes must come from web users. Recently, Chatwing chat app moderators have announced in chatrooms that they will be looking for web users with brilliant design ideas.
"Design is important," Suze Dollar said; Ms Dollar is the person in charge with handling customization concerns. "In fact, it is the core of the Chatwing chat software widget. Without the concept of design, there will be no chatroom. Users will also look the other way. Most of our themes came from users, so we will still be looking for users outside the team. The winning participants will get Chatwing coins. They can use these for premium services."
Chatwing's background theme was implemented more than six months ago. It is used to generate a quick design of the chatbox, especially if users do not want to spend more time in customization. The background designs are mixtures of various accents and they can match any websites because of their variability. Hundreds of background themes are available for regular users. Premium users, on the other hand, can request for custom background themes. For a price, Chatwing website chat software developers can work on the request; this can grant the user a higher 'personal touch.'
Aside from new background theme designers, the Chatwing Team is also looking for moderators who will look after several of the company's chatrooms. Interested people may send an email to Chatwing.
About Chatwing.com
Chatwing.com is a company that has brought innovation to the modern chat widget. Operating for more than five years now, Chatwing and its team of developers have dozens of ideas ready to be introduced to the public. The Chatwing chat app is an easy-to-use online tool that can help web users interact with each other and can also generate continuous traffic. Chatwing will always be a "freemium" application for everyone.