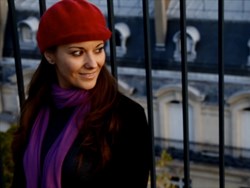 I plan to be making some appearances in American TV shows and feature films and to be shooting I'm not an Accent in Texas in 2014.
Los Angeles, California (PRWEB) November 19, 2013
Despite the fact that her web series Oh la la, I Speak French! has become an important part of the online French learning community Soraya discovered that having an accent repeatedly got in the way of her becoming a working actress in America. So, while a lot of foreign actors invest in dialogue coaches, Soraya decided to create the acting career she wanted. She explains: "I realized that if I celebrated being French instead of apologizing for it, it would allow me to stand out from the crowd in a crowded marketplace." And her work definitely does. Her award winning short, a romantic comedy, I'm Not an Accent, has been selected for the Beverly Hills Shorts Festival. Soraya wrote the project, co-produced it with Celia Diane, and brought together a team of talented individuals to bring it to the screen. The comedy stars Ryan Daniel Dobson, with Sian Vilaire, Natalie Victoria and Danny Pardo in supporting roles.
I'm not an Accent was directed by Dena Hysell, who explains why she fell in love with the script: "It is this very human story of someone trying to fit in, and not fitting in until she stops denying who she is." Soraya turned a personal story into one that actually speaks to a lot of people; she adds: "I knew that the story had to be told with humor and I knew it had to resonate on a much more universal level than just that of actors with accents in Hollywood." The result is a deliciously entertaining short with a simple but subtle message - being true to oneself is what truly matters.
Soraya continues being true to herself with another project close to her heart, the educational web series, Oh la la, I Speak French! Turning tedious grammar lessons into comedic sketches, she has combined her many talents – teaching, writing, producing, directing and acting – to alluring effect. "I love acting, but - and this is an understatement! - it can get pretty self-absorbing if you let it! Education is a way for me to contribute and stay connected to a much wider community."
Soraya, who also produces and records the French E!News show, is now finishing the script for the feature version of I'm Not an Accent. She recently took part in the Austin Film Festival, working with writers, and researching locations for her script. When asked what's coming next, she says: "I plan to be making some appearances in American TV shows and feature films and to be shooting I'm not an Accent in Texas in 2014."