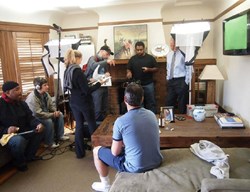 The Suicide Party got so much interest that we are creating three films with three directors using different approaches in three cities.
(PRWEB) November 18, 2013
The Suicide Party will be featured in a unique crowdfunding campaign on Indiegogo that for the first time features three visions by three directors in three different U.S. cities. This is a novel approach to producing a new feature film, based on the same story, which will become party of a Suicide Party trilogy and film festival. Consider it the Roshomon of filmmaking, a name derived from a famous Japanese film in which a crime and its terrible aftermath was told from differing points of view.
In this case, the basic story, which has inspired so much interest, is about a man who has lost his job and can't find another due to outsourcing. Now, after being dumped by his high society girlfriend before the wedding, he is on the verge of losing his house and everything he holds dear and can't bear the thought of living on the street. So he decides to have a suicide party with the help of friends, who are struggling, too, and if he gains enough money to save his house and get back on his feet, he'll live. If not, he'll end it all. The plans for the party trigger a media frenzy and unexpected results, in a film that is both entertaining and raises some timely social issues about suicide, inequality, and the loss of the middle class – issues that affect many millions in today's times of economic turmoil.
The first of the films to be produced: The Suicide Party: Project One will be filmed by Jack Skyyler of Dear Skyyler Produtions in New York, with internationally known actors Glynn Praesel of Texas and Tom Malloy of Los Angeles. It will be shot in Texas featuring the found footage approach used in many popular low budget films, such as The Blair Witch Project and Paranormal Activity. The second film will be shot as a dark comedy in L.A. by Shamil Erfanian. The third film will be shot in a documentary style in the San Francisco Bay Area, with a director to be selected by San Francisco writer and indie film producer Gini Graham Scott. Then, the three films will become part of a Suicide Party festival and international Save Dave campaign, featuring 10-30 second videos submitted by individuals all over the world sharing their reasons for why we should save Dave. Besides being entertaining, these films are designed to raise a conversation about the serious social issues that underlie Dave's plight in the film.
A new sizzle reel with highlights of the film was recently added to the http:// Suicide Party campaign site Other updates feature photo videos of the three day film shoot.
The Suicide Party film website is at http://www.suicidepartyfilm.com, and the Save Dave website that invites people around the world to send in 10-30 second videos of reasons to save Dave is at http://www.savedave.net. A Facebook page for the campaign is at http://www.facebook.com/youcansavedave.
The organizer of this campaign and the writer/producer of The Suicide Party is Gini Graham Scott, the founder of Changemakers Publishing and Writing and the author of over 50 published books with major companies and 30 books published by her own company Changemakers Publishing. She also writes books and scripts for clients. She has spoken about the topics of her books to many groups and the media, including appearances on Good Morning America, Oprah, and CNN. She received a PhD in Sociology from the University of California in Berkeley, a JD from the University of San Francisco Law School, and MAs in Anthropology, Mass Communications and Organizational/Consumer/Audience Behavior and Popular Culture and Lifestyles, and a MS in Recreation and Tourism at California State University, East Bay. She is pursuing an additional MA there in Communications.