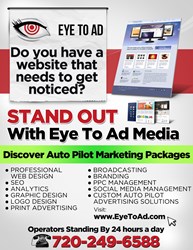 We are proud to offer some of the best prices nationally on hosting and domain registration.
New York, NY (PRWEB) November 18, 2013
A very strategic advertising agency with a global reach, Eye To Ad Media announces they will now be providing customers with URL registration services, reliable web hosting, dedicated IP addresses, dedicated servers and VPS.
The reliable hosting plans offered come with a 99.9% up time guarantee and are among the best priced plans available. Customer service and support representatives are available around the clock. However clients will now have the ability to log into their own dashboard and manage their internet marketing through one simple to use platform.
Online advertising can literally be a jungle, especially with technology changing at lightning speed. That's why it's important for business owners to be able to streamline their marketing efforts. Being able to effectively reach the target audience and desired demographic, through the seemingly endless web; can be an incredibly involved and difficult task. Depending upon the size of the business, it may require an entire department to manage the internet marketing.
Like anything in life, there is almost always a more efficient way to do something. Successful businesses must streamline and refine to bring costs down, in an effort to be more efficient and increase profitability and quality. Companies that aren't efficient, typically aren't around long. When it comes to advertising a brand, the same fallacies can exist. One company may get twice what another company does, per the same input of capital and labor. The difference on the return on investment may be found in many variables, but ultimately one company may fare much worse due to being inefficient with their marketing.
Improper management of advertising can be a company killer. Businesses must constantly keep up to date on new media technologies and trends if they want to be effective marketers. Having a thorough understanding of customer acquisition costs and conversion rates is essential when running a business, and is a critical indicator in advertising.
Fortunately, customers can simplify their advertising when utilizing Eye To Ad's unique and effective PR technologies. Clients now have the option to manage their SEO, website, hosting, blogging and other services via an online portal, or have the company customize a unique customer acquisition strategy.
Getting the costs down and increasing reach is the main priority. Whether clients want to promote locally or globally, the company has solutions that can be catered to specific needs an goals. They also offer a variety of personalized consulting and business building products, such as eCommerce web design, app development, business plans, search engine optimization, graphic design, copywriting and video production. For more detailed information please visit http://www.buyweburl.com or contact a representative for a no cost initial consultation.
Furthermore, clients that are interested in promoting their business on national television can also inquire about the company's TV media packages. Customers can have a custom commercial produced by Eye To Ad or provide one of their own. A campaign that has a combination of TV, radio, internet and print can be incredibly effective when executed right. It isn't unheard of to integrate the different types of media as well.
Lastly, tracking advertising is one of the most important components to promoting a business. Without tracking, it's very difficult to see what's really happening. Website analytics come standard on several of the company's products, so clients can easily monitor their advertising efforts.
Contact Information:
Zach Wennstedt
720-249-6588
info(at)EyeToAd(dot)com