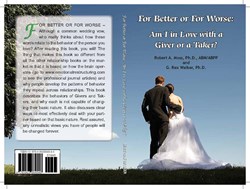 These are the only books written on the brain code model and related clinical and spiritual applications.
Greenville, South Carolina (PRWEB) November 20, 2013
Dr. Robert A. Moss has authored 5 books since 1993. These are the only books written on the brain code model and related clinical and spiritual applications, some written for popular audiences and the other for psychological professionals. These are available exclusively at the Center for Emotional Restructuring website and this is the first time there has been a price reduction.
In the self-help, popular psychology genre, the original book by Dr. Moss that described Giver and Taker patterns was Understanding Emptiness: The Think/Feel Conflict (Reduced from $10.95 to $7.95). This book discusses how those patterns manifest and can be recognized in all relationships, from parents and siblings to teachers and bosses.
The most recent book written in conjunction with Dr. Rex Walker was For Better or For Worse: Am I in Love with a Giver or a Taker? (Reduced from $16.95 to $9.95) This provides a deep understanding of relationship behavior patterns and how to most effectively deal with one's mate to have the healthiest relationship.
The first Christian book was The Brain and the Bible (Reduced from $10.95 to $7.95) and discusses Giver Taker patterns in the Bible, as well as how Biblical information is consistent with recent discoveries in brain operations. The most recent Christian book by Dr. Moss is The Competition of Spirit: In Pursuit of the Light. (Reduced from $14.95 to $8.95) This book provides the most comprehensive discussion of all aspects of Dr. Moss' work as it relates to the Bible, with insights on Grace and forgiveness.
The only professional book written to date on assessment, conceptualization, and treatment based on Dr. Moss' model is Clinical Biopsychology in Theory and Practice. (Reduced from $34.95 to $19.95) Using this manual in his clinical training of doctoral students resulted in three of those students presenting papers last June at an international professional meeting in Barcelona, Spain. Dr. Moss is currently making plans to conduct continuing education programs in 2014 with certification in Emotional Restructuring as a goal.
The CD set is titled "Bad Feelings, Bad Thoughts, and Bad People: Understanding and Dealing with Each." (Reduced from $89.95 to $49.95) The six CDs cover a broad range of topics including: an explanation of how psychological problems begin based on the brain model; current treatment options for psychological problems; normal emotional reactions to loss; and recognizing Giver Taker patterns and how to most effectively cope with those patterns.
Full information on the relationship books and all aspects of the brain theory and its applications, including all related articles, is available at emotionalrestructuring.com. All of his current brain-related articles, as well as past articles on headaches and facial pain, are also available at ReseachGate.com and Academia.edu.
Dr. Moss is board certified in clinical psychology and neuropsychology. He has authored 47 professional articles and presented at numerous regional, national, and international conferences. He is the Editor-in-Chief of AIMS Neuroscience, a new open-access neuroscience journal.