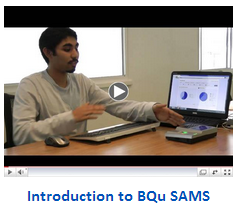 London, UK (PRWEB UK) 19 November 2013
BQuSAMS have produced a short video which shows how easily the BQuSAMS can be implemented, how effectively it integrates with existing systems, how the attendance data is gathered and how the dashboard reports real time information instantly for staff to be able to make effective interventions and add real value. The video can be viewed here.
Universities and colleges have now realised the importance of monitoring Student Attendance. An effective Student Attendance Management System (SAMS) can deliver enormous benefits to a University and all of its stakeholders.
It is available now and the benefits can be delivered very quickly when a good Student Attendance Management System (SAMS) is implemented.
An effective Student Attendance Management System can deliver 3 key benefits for educational institutions:
1. Tier 4 Licence compliance
2. Lower administrative costs
3. Increased revenues through improved student retention
A good Attendance Management Policy supported by a good Student Attendance Management System can deliver the following benefits to Students and their institution:

Tier 4 Compliance
Improved Student Attendance and engagement
Improved communications with students and staff
Reductions in operational costs
Improved staff morale
Improved student attainment
Health & Safety, Duty of Care
Improved student retention
Improved revenues
Improved institutional reputation
Increased demand from new students
BQuSAMS (Student Attendance Management System) ensures that users can easily implement their Student Attendance Policy, helping to improve attendance and engagement, improving the student experience and compliance with Tier 4 licence obligations in an efficient and cost effective manner.
A further benefit is that the systems real time reporting enables staff to easily identify students whose attendance and engagement is below expectation immediately. They can then make effective intervention to work with the student concerned and provide appropriate support and encouragement to get them back on track.
This has a profound positive affect on student retention, which greatly improves revenues with. It also leads to improvements in the numbers of students completing and attaining their qualification, which enhances the reputation of the university.
A good Student Attendance Management System (SAMS) will produce accurate data to evidence the engagement and progress made by their students and enables cost effective reporting to their stakeholders.
The SAMS also enables colleges and universities to fulfil their requirements for Tier 4 licence compliance for tracking student's attendance and study engagement and to be able to quickly provide evidence if required. This can be an enormously time consuming, costly and inefficient process, which often fails to deliver the necessary information needed to comply.
BQuSAMS is one of the best and most cost effective biometric cloud-based solutions available to the UK University sector to help in maintaining their Tier 4 licence. Further details are available at http://www.bqutms.com/overview.html