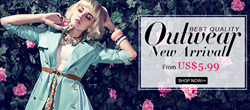 (PRWEB) November 20, 2013
Today, TBdress.com, one of the most popular women's dress companies, has released its fresh assortment of wedding dresses. According to the CEO of the company, these outfits will be available at low prices at the Black Friday sale. All customers who place orders on its website can enjoy the discounts.
In addition to wedding dresses, this company provides a large collection of beautiful outfits, which makes it very easy for ladies to be attractive. The collaborative efforts of the professional designers in this industry led to the creation of these wonderful dresses.
Among the products that appear in the company's online list, the most popular items are wedding dresses for hot designs and unique looks. That is why TBdress.com made the decision to manufacture the new range of wedding dresses and launch the promotion for the Black Friday sale.
The new collection has more than 1000 dresses in it; it is handpicked for those who love fashion. The company has brought fashionable designs to women shoppers for over five years.
"We are happy to announce our new items." The CEO states, "Our company is a one-stop platform and we hope to offer our worldwide customers a nice shopping experience. We have a team of designers who can create good-looking dresses at the most cost-effective prices. We put customer satisfaction first."
About TBdress.com
TBdress.com is offering extensive and stylish collections of wedding dresses and other special-occasion dresses at acceptable low prices, and its products include a large selection of wedding dresses, evening dresses, wedding lingerie, prom dresses, and more. They vow to provide trendy wedding dresses without sacrificing the dress quality. For more details, please visit the website of TBdress.com.