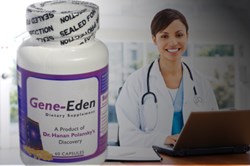 Like every drug, statins also have side effects. Lowering the immune system is one such side effect. This increases the chances of reactivating latent viruses. - Mike Evans, polyDNA
Rochester, NY (PRWEB) November 19, 2013
Many people know that statins, such as Lipitor and Simvastatin, are used to help lower cholesterol levels. However, most people don't know that statins can lower the immune system, which can cause a reactivation of the varicella zoster virus (VZV). This, in turn, can lead to a herpes zoster outbreak (also known as a Shingles), according to researchers from St. Michael's Hospital, in Toronto (1).
In a study, researchers collected data from close to a million people over a thirteen year period. They found that people who used statins had a higher rate of herpes zoster outbreaks. "During the thirteen year study period, we matched 494,651 individuals treated with a statin to an equal number of untreated individuals. In the main analysis, the rate of herpes zoster was higher among users of statins relative to nonusers of these drugs (1)."
"There are more than 1 million cases of shingles in the United States per year. The incidence is increasing and rises after 50 years of age. A sobering statistic brings this home… up to 3% of those afflicted require hospitalization," according to an article published on October 11, 2013 on Consultant360.com (2).
polyDNA recommends that people who use statins also take Gene-Eden-VIR, a herpes zoster remedy, proven to help lower symptoms associated with a latent viral infection.
"Like every drug, statins also have side effects. Lowering the immune system is one such side effect. This increases the chances of reactivating latent viruses. Since most people are infected by at least one latent virus, people who take statins should consider taking Gene-Eden-VIR to help their immune system target these viruses." – Mike Evans, polyDNA
In a post marketing clinical study published on August 12, 2013 in the medical journal Pharmacology & Pharmacy in a special edition on Advances in Antiviral Drugs, researchers showed that Gene-Eden-VIR is safe and effective (3). Additionally, up to 70% of those studied reported a decrease in viral symptoms, and users experienced an increase in overall health (3).
Each ingredient of Gene-Eden-VIR was chosen through a scientific approach. Scientists scanned thousands of scientific and medical papers published in various medical and scientific journals around the world to identify the safest, most effective natural ingredients that target the latent form of herpes zoster. (3)
To learn more about Gene-Eden-VIR, visit http://www.gene-eden-kill-virus.com. All orders of Gene-Eden-VIR are completely confidential, and no information is shared or sold to any third party. Privacy is assured.
Reference:
(1) http://www.ncbi.nlm.nih.gov/pubmed/24235264
(2) Herpes Zoster on the Rise, October 11, 2013
http://www.consultant360.com/articles/herpes-zoster-rise
(3) http://gene-eden-kill-virus.com/PP_Gene-Eden-VIR-is-Antiviral.pdf
polyDNA is a biotechnology company that develops dietary supplements using the unique scientific method developed by Dr. Hanan Polansky, which is based on Computer Intuition.
In addition to his unique scientific method, Dr. Polansky published the highly acclaimed scientific discovery, called Microcompetition with Foreign DNA. The discovery explains how foreign DNA fragments, and specifically, DNA of latent viruses, cause most major diseases.
polyDNA developed Gene-Eden-VIR , an antiviral natural remedy that helps the immune system kill latent viruses.