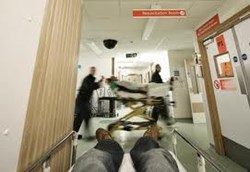 This is very exciting as this will be the first vaccine to fight a hospital superbug.
Bolton, UK (PRWEB UK) 19 November 2013
As reported by the Manchester Evening News, a vaccine has been developed, which would immunise patients against a superbug (1). It is hoped, that such measures will protect patients against hospital acquired infections.
There were allegedly 1,000 cases of the hospital acquired infection, Clostridium Difficile, in Greater Manchester hospitals last year; and it is believed that the vaccines could help prevent such cases, consequently, saving thousands of lives (1).
Highly contagious, and immune to most antibiotics, Clostridium Difficile is difficult to cure; making the development of a preventative vaccine a crucial step in protecting patients. According to the Manchester Evening News, the Manchester trial will involve 200 people testing the vaccine, with a further 1,600 people testing the vaccine across the country (1).
Dr. Blanchard, an infectious diseases consultant at North Manchester General Hospital, has described his hopes for the vaccine (1)-
"This is very exciting as this will be the first vaccine to fight a hospital super-bug. Tetanus is gone from the UK and the reason is that everyone gets vaccinated against it. There's a strong track record that this type of vaccine is really safe.
"It will have to go into general widespread use before it does that, but I really think it will work."
Over a decade has been dedicated to developing the drug, and officials are confident that a license will be granted (1).
Considering the new immunisation, Asons Executive, Suzanne Yates–
"I imagine the results of this trial will be eagerly awaited; Immunising against hospital acquired infections, such as C Difficile, would safeguard patients during hospital stays.
"At Asons Solicitors, we have clients making Hospital Acquired Infection claims; and in some cases, the symptoms of C Difficile are much worse than the condition which originally brought them to the hospital. This can be particularly dangerous, particularly where elderly and infant patients are concerned.
"It is also important to note that hospital acquired infections are often prevalent where there is a failure to follow hygiene protocols. It is crucial that such standards are adhered to, despite the presence of a vaccine. "
In the event that someone has been subject to medical negligence, they must seek legal advice as quickly as possible. Taking action can prevent the same situation from reoccurring, helping others to avoid injury in the future.
Those who have suffered may be able to make a hospital acquired infection claim for NHS compensation. Asons Solicitors deal with clinical negligence claims on a regular basis, they can be contacted on: 0844 850 1062 or via their medical claim form at asons.co.uk.
-Source-
(1) Manchester Evening News 'Greater Manchester to trial 'killer' bug vaccines' (29/10 /2013), manchestereveningnews.co.uk/news/health/greater-manchester-trial-killer-bug-6252026
-ENDS -
About Asons Solicitors:
Asons Solicitors is a Bolton-based law practice that specialises in personal injury and industrial disease claims. Founded by brothers Imran Akram and Kamran Akram, Asons Solicitors has developed to become a young and dynamic law firm that delivers practical solutions to clients in times of difficulty. Their continued focus on their staff has seen them awarded with the Investors in People "Gold Award"; which is reflected in the professional and personable approach they take in working with clients. They strive to grow and to develop, and their supportiveness and attention to detail ensures that their clients use them time and again.
For further information contact:
Email: info(at)asons(dot)co(dot)uk
Website: http://www.asons.co.uk