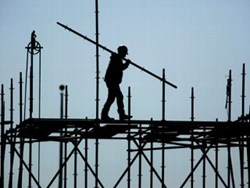 Falls at work are the most common cause of construction industry workplace deaths.
Bolton, UK (PRWEB UK) 19 November 2013
Trafford Magistrates' Court heard on the 08th November, that Eagle Construction Ltd was appointed as main contractor, to carry out roofing work at the Bolton property. (2)
As reported in the press release, Simon Brown, an experienced roofer from Farnworth, had been hired by Steven Winter, owner of Orion Roofing, who had been sub-contracted for the work at a property on Wheatfield Street, Bolton. (1)
It is alleged, that inadequate scaffolding led to Mr Brown falling eight metres from the roof. As a consequence, he suffered a broken back, neck injuries, and a fractured pelvis and skull. Mr Brown later had to have a kidney removed. (1)
It is believed, that Mr Brown was standing on the new dormer roof when he felt dizzy. He then fainted, and fell into the neighbour's garden below. Following the incident, Mr Brown spent eight weeks in hospital. (1)
As reported by the HSE, Eagle Construction organised scaffolding at gutter level on the front of the property, and an additional tower scaffold on the rear. An investigation by the Health and Safety Executive (HSE) into the incident discovered that the scaffolding at the rear of the house failed to protect anyone from a fall. (1)
Commenting on the incident, Thomas Fairclough, Asons Executive, stated that:
"Falls at work are the most common cause of construction industry workplace deaths. Luckily, these injuries were not fatal. However, Mr Brown has still endured a serious personal injury, suffering damage that could have been prevented, had the correct health and safety procedures been implemented."
Eagle Construction pleaded guilty to breaching Regulation 6(3) of the Work at Height Regulations 2005, and Regulation 13(2) of the of the Construction (Design and Management) Regulations 2007. He was fined £6,000, with £3,000 costs.
Steven Winter of Farnworth, Bolton, pleaded guilty to breaching Regulation 6(3) of the Work at Height Regulations 2005, and was fined £1,000, with £300 costs.
Speaking after the hearing, HSE Inspector Neil Jamieson, stated:
"Although Mr Brown has suffered very serious, life-changing injuries, we could easily be talking about a fatal incident.
"The initial scaffolding was adequate, but the problem arose once work moved onto the dormer extension and roof. It was the responsibility of the Eagle Construction to provide sufficient fall protection, but the scaffolding was not modified to fit in with the progress of the work. So what was a sufficient safety measure became insufficient, and unsafe.
"The sub-contractor, Steven Winter, also allowed his worker to access the roof, and work in a dangerous manner, where there was inadequate fall protection." (1)
If you, or someone you know, have suffered, then you may be able to make a fall at work claim. Asons Solicitors deal with personal injury claims on a regular basis, you can contact them on: 01204 521 133 or you can fill out their claim form at http://www.asons.co.uk
(1) HSE - Contractors fined after worker fell from roof, 08/11/2013 press.hse.gov.uk/2013/contractors-fined-after-worker-fell-from-roof-2/
(2) Trafford Magistrates' Court - T20137108
ENDS –
About Asons Solicitors:
Asons Solicitors is a Bolton-based law practice that specialises in personal injury and industrial disease claims. Founded by brothers Imran Akram and Kamran Akram, Asons Solicitors has developed to become a young and dynamic law firm that delivers practical solutions to clients in times of difficulty. Their continued focus on their staff has seen them awarded with the Investors in People "Gold Award"; which is reflected in the professional and personable approach they take in working with clients. They strive to grow and to develop, and their supportiveness and attention to detail ensures that their clients use them time and again.
For further information contact:
Email: info(at)asons(dot)co(dot)uk
Website: http://www.asons.co.uk