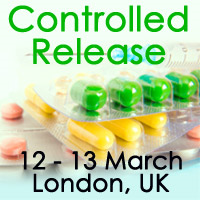 "Very informative on the recent advances in drug discovery" - 2013 Event Atendee
London (PRWEB UK) 18 November 2013
SMi is proud to present its 11th annual Controlled Release conference, held in central London on the 12 & 13 March 2014. The meeting will continue in a long tradition of critically acclaimed speakers who are pioneers in their field. This event offers you a unique opportunity to keep up to date with the latest in technologies and methods such as the diffusion of nanomaterials through biological and non-biological gels.
Controlled release remains one of the most important innovate areas in pharma, with revenues set to dramatically increase to 2020. Recent advances in drug delivery systems have created the perfect mix for opportunities in the field.
KEY REASONS TO ATTEND:

Controlled Release 2014 will cover the GI tract in oral formulation design and oral drug delivery to the Colon with Luigi 'Gino' Martini joining the speaking panel to give an industry perspective on oral product development programs.
Join Joel Richard, Vice President Peptides, CMC and Engineering at Ipsen as he gives an overview of the present status and future outlook of peptide delivery. A drug market that is estimated at $15 billion
A professional environment with expert speakers from leading pharma companies including GlaxoSmithKline, Johnson & Johnson, Ipsen and Novartis available to network and help build upon market intelligence to further business strategies
Designing dosage forms that allow for more effective drug delivery and release is critical for success in both the clinic and marketplace. Patrick Crowley, Author and Editor of 'Controlled Release in Oral Drug Delivery' will demonstrate how to attain target performance profiles for dosage form design.
KEYNOTE SPEAKERS:

David Elder, Externalisation Director, GlaxoSmithKline
Joel Richard, Vice President Peptides, CMC & Engineering, Ipsen
EXPERT SPEAKERS INCLUDE:

Jeffrey B. Ulmer, Global Head of External Research, Novartis Vaccines & Diagnostics
Tugrul Kararli, President and Founder, PharmaCircle
Der-Yang Lee, Research Director & Fellow, McNeil/Johnson & Johnson
Michael Keller, Senior Fellow, Novartis Pharma AG
Pierandrea Esposito, FAssociate Director and Co-founder, SiTec PharmaBio
Patrick Crowley, Founder and Owner, Callum Consultancy
Luigi Martini, Professor of Pharmaceutical Innovation, King's College London
Duk Soon Choi, Vice President Preformulation, Kashiv Pharma
Howard Stevens, Professor, University of Strathclyde
Amin Hajitou, Senior Lecturer and Principal Investigator, Imperial College London
Plus an interactive half-day post-conference workshop: Using Novel Excipients for continuous manufacturing
Tuesday 11th March 2014 | Holiday Inn Regents Park, London, UK | 1.00pm - 5.30pm
Workshop Leader: Dr Dennis Douroumis, Reader in Pharmaceutical Sciences, University of Greenwich
For more information on the programme and speakers please visit the website.
Register by 29th November and save £300. Register online or contact Fateja Begum on +44 (0) 20 7827 6184 or email fbegum(at)smi-online(dot)co.uk.