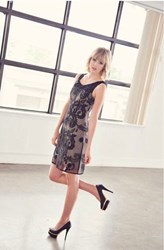 We wanted to offer our customers a better shopping experience so we've added many filter options, an improved search bar and a direct credit card payment option.
Toronto, Canada (PRWEB) November 19, 2013
The online women's clothing, jewelry & accessories store, Apricot Collection, has re-launched their website all with the hopes of making the customer shopping experience easier and more pleasant.
The company based its change on feedback it received from customers and suppliers and after months of developing the new site, it was launched on November 15th. The new redesigned website offers exciting new features, such as: an improved search bar option, direct credit card payment, fabric guide, style guide, a "how to measure" video and the most important one – filters.
Apricot Collection added filters as another search option. Some of them are already being offered by many other retailers such as: color, size, price and brand. However, Apricot Collection also added a "body type" filter. This new filter option includes the five main body types – hourglass, apple, triangle, inverted triangle and rectangle. Whether the customer is looking for a top, a dress or a skirt, she can save time and money, and get only the appropriate options that match her body shape. This would also contribute to customer satisfaction once their order arrives, since chances are they chose the right garment for their body type.
Apricot Collection also released a new short video demonstrating how to take measurements before shopping. Different brands use different cuts, and a size small from brand "A" would not always equal a size small from brand "B". That's why Apricot Collection adds for each style and every size the full measurements (bust, waist, sleeve and length). In order to ease the shopping experience, Apricot Collection encourages their customers to watch the video which is on their website's home page as well as on YouTube.
About Apricot Collection:
Apricot Collection is a Canadian based online retailer which came to life after Michelle Herscu, founder & owner, decided to combine her love to fashion with her love to business. She always felt like the market wasn't offering enough and online stores usually target one audience, whether it's young girls or just a specific style. That's why today she's always looking for new brands to add to the collection and each piece represents a different style for various occasions. Another element that's important to her is to ensure quality is never compromised. Whether it's classic-chic, feminine, bohemian or vintage. Apricot Collection offers them all, and as time progresses, the company adds more brands and new styles.