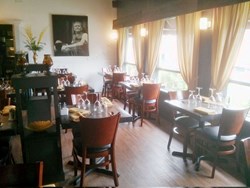 Sherbrooke, Quebec, Canada (PRWEB) November 18, 2013
Restaurant Furniture Canada recently proved why it's Canada's leading manufacturer and distributor by teaming up with L'Arlequin in Sherbrooke, Quebec to help upgrade the restaurant's seating.
Founded in the fall of 1996, the goal of L'Arlequin is to provide a refined internationally inspired cuisine in a warm atmosphere. All accompanied by impeccable service at a reasonable price. L'Arlequin is a restaurant where you can bring your own wine. So you can enjoy your favorite wine with a delicious meal. Head Chef Frédéric Paul worked for several years on innovative techniques to distinguish the kitchen of the L'Arlequin. Among other things, he has incorporated low temperature cooking to the menu since 2008, a technique that preserves the structure and flavor of foods. Curious by nature, the head constantly incorporates new processes to make give patrons a unique dining experience.
The owner of the chic L'Arlequin French restaurant recently redecorated the interior of the restaurant. He turned to Restaurant Furniture Canada to supply them with new chairs because of Restaurant Furniture Canada's reputation for stylish, well-built commercial furniture and excellent customer service.
"L'Arlequin needed high quality, stylish restaurant chairs tops to complement their fashionable décor which he had just redesigned. He also needed them delivered fast. As the leading supplier of restaurant furniture to Canada we were able to offer him great excellent craftsmanship in our furniture, great customer service and speedy delivery," Restaurant Furniture Canada salesman Zach K. explained.
He opted to go with the Tiffany Wood Restaurant Chairs which sell for $75. "The Tiffany Wood chairs were just what the owner was looking for," said Zach. These elegant chairs add style and refinement to any dining establishment. The chairs blended in perfectly with the chic, redesigned décor. He chose the mahogany wood finish and black, padded vinyl seats which are American made. The frame is also available in walnut, dark mahogany, natural, cherry and black finishes. A custom finish can also be made upon request. The padded seat is available vinyl or fabric and can be made from any material the customer chooses. Another option is a saddle shaped seat made of solid wood.
To browse Restaurant Furniture Canada's full selection of chairs, bar stools, table tops, table bases, booths and patio furniture visit http://www.restaurant-furniture.ca/ or talk to a customer service representative at (888) 998-4222 for answers to all your questions on restaurant furniture.
L'Arlequin Restaurant is located at 875 Belvédère sud, in Sherbrooke, Quebec. They can be contacted at (819) 573-2818. You can also visit their website at: http://arlequin.ca/.