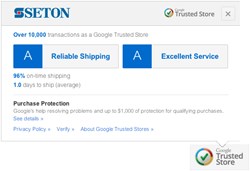 Branford, CT (PRWEB) November 19, 2013
Customers of Seton, a global manufacturer and distributor of workplace safety products, will notice the Google Trusted Store badge now visible on the company's eCommerce site, Seton.com, after the retailer was recently included in the Google Trusted Store program.
Seton today announces its inclusion in this Google program, which confirms the commitment to superior customer service that has been a trademark of Seton for more than five decades.
The Google Trusted Store Program recognizes eCommerce sites for posting a solid track record of on-time shipping and superior customer service. So when shoppers see the Google Trusted Store badge on eCommerce websites, they know they're buying from a store that provides a consistently excellent shopping experience.
"The Google Trusted Store badge is just evidence of the hard work Seton has accomplished to become the source of all safety products for our customers," says Chris Dargis, VP, Digital and Global Web Experience. "As an added benefit, when shoppers make a purchase at a Google Trusted Store, they have the option to select free purchase protection from Google. Then in the unlikely event of an issue with their purchase, they can request Google's help, and Google will work with Seton and the customer to address the issue. As part of this, Google offers up to $1,000 lifetime purchase protection for eligible purchases."
The Google Trusted Store icon appears in the bottom right corner of the webpage when customers visit Seton.com.
###
For over 55 years, Seton has been the source for workplace safety, labeling and signage solutions. Seton offers over 250,000 products, all of which are designed to increase workplace safety and enhance facility marking applications for millions of customers around the globe. For more information, visit http://www.seton.com/.