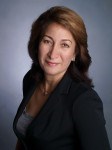 Winning the Stevie Award means recognition of all the hard work at ERA for the past 20 years
New York, New York (PRWEB) November 19, 2013
ERA Environmental Management Solutions is proud to announce that Sarah Sajedi, CEO and Director Research and development, has been awarded the Silver Stevie Award for the Woman of the Year in Technology Leadership. Sarah was recognized for her strides in the environmental management technology sector – her innovative software has helped both large and small manufacturing companies improve their environmental performance.
Sarah accepted the award Friday November 8th in New York. The Stevie Awards are an international organization that recognizes entrepreneurs and innovators from around the world for their significant contributions to their industries and for setting new trends. Particularly, the Stevie Awards for Women in Business honors women blazing a trail in industry.
This Stevie Award adds to Sarah's glowing accolades she has recently garnered, including the 2013 Sara Kirke Entrepreneur of the Year Award and an 2012 RBC Women of Influence National finalist position.
Sarah Sajedi, in an interview after the ceremony, had this to say: "Winning the Stevie Award means recognition of all the hard work [at ERA] for the past 20 years… All my employees have worked very hard to get us to where we are today. It is difficult to be recognized in a male dominated industry, so we are very proud and thankful to Stevie Awards… Recognition helps us grow further and… create more jobs."
ERA is internationally recognized for helping large and small manufacturers improve their environmental performance with its world-class technology solution and excellent customer service. It has been thanks to Sarah's vision and leadership that ERA has been able to thrive and become the industry standard of EMS software for the automotive industry and now the oil and gas industry.
About ERA Environmental Management Solutions
ERA is one of North America's leading environmental technology and consulting business, with over 20 years of helping the manufacturing industry quantify and improve their environmental performance. ERA's award-winning environmental experts have worked with some of the world's largest and greenest manufacturers, including Martin Resources, Nalco, Volkswagen, BMW, Toyota, and many others.