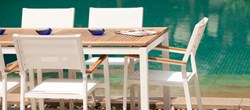 We are proud to be working with such exceptional organisations, they are ideally placed to support our customers and deliver exceptional levels of service.
(PRWEB UK) 19 November 2013
Akula have an international reputation as designers and manufacturers of exceptional quality outdoor furniture. 2013 has seen strong growth in sales and as a result they have a rapidly growing number of agents and distribution partners spread across the world.
Akula expect additional growth in 2014, and so are positioning themselves to capitalise upon the potential market conditions in the USA.
Their furniture ranges have been designed specifically to meet the needs of the most demanding clients in the USA and is installed at resort hotels, spas, bars, heavy use airport business lounges, cruise lines & restaurants.
Recently Akula has completed an extensive installation at the LAX Star Alliance Business Lounge, where their exceptional furniture provides the ideal, low maintenance, contemporary backdrop to this prestigious venue.
To support an increase in business in the USA they have appointed four new preferred contract agents in key locations;
Davis Design Materials Inc based in Las Vegas NV (Contact : Valerie Davis -valerie(at)ddmaterials(dot)com), ICFN in Atlanta GA (Contact : Alan Robbins -a5robb(at)aol(dot)com) Vincenzo Viva Sales LLC based at Hilton Head Island, SC (Contact : Vincenzo Viva - vincenzovivasalesllc(at)gmail(dot)com) and Roy Ingvar Mattson LLC based in Newport RI and Palm Beach, FLA (Contact : Roy Mattson rim(at)roymattson(dot)com or Claude Bouvier – cb(at)roymattson(dot)com)
People looking to source furniture in the USA should initially contact any of the above, or they can contact Akula directly through their website.
To discover Akula for yourself, visit http://www.akulaliving.com.