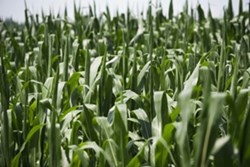 "Consumers have grown increasingly conscious of the quality of ingredients in the foods they eat every day," said Julie McCulley, Lightning Labels' Production Manager. "As such, they're reading food labels more thoroughly."
Denver, CO (PRWEB) November 19, 2013
Lightning Labels, leader in printing custom labels and stickers, is helping food and beverage manufacturers across the nation respond to the growing consumer interest in Genetically Modified Organisms (GMO) Labeling by providing tips on creating effective, informative product packaging. Several states have considered food labeling legislation to require companies to disclose whether their products include genetically modified or engineered ingredients. Most recently, a push for such a law in Washington was defeated after 54 percent of voters in the state rejected the legislation that would require GMO labels on most foods, seeds and products like soy.
While the Washington bill was rejected, its creation echoes a trend in public sentiment about GMOs and label transparency. For effective marketing as well as regulatory compliance, manufacturers must ensure they are fully aware of potential legislation and their target consumers' attitudes about GMOs.
"Consumers have grown increasingly conscious of the quality of ingredients in the foods they eat every day," said Julie McCulley, Lightning Labels' Production Manager. "As such, they're reading food labels more thoroughly, and many shoppers are opting for organic or all-natural products. GMO labeling initiatives are amongst the latest pushes for transparency in product packaging. Manufacturers should understand how these trends affect the way consumers view their products to develop labels that best suit their target audiences. Lightning Labels can help brands create custom labels that are as appealing as they are informative."
Tips to Design Your Own Labels to Meet Consumers' Needs:
To design your own labels with shoppers' ingredient-conscious attitudes in mind, Lightning Labels has developed several tips for food and beverage businesses to consider:
1. Know All FDA Label Requirements: While the U.S. Food and Drug Administration (FDA) does not mandate GMO labeling at this time, it's crucial to keep up with all current packaging requirements, such as those pertaining to gluten-free products and allergens. Additionally, with more states considering GMO label legislation, make a point to stay up to date on related developments, both in FDA label requirements and at the state level.
2. Prioritize Clarity in Food Labeling: While an attractive custom label design is a key ingredient to successful marketing, it's imperative that brands provide the right information on food packaging in a clear, succinct way. Order labels from an industry-leading label printer like Lightning Labels to ensure food labeling expertise. Place ingredient listings, allergy warnings and other important product details on labels strategically, in a font that's small but clean and legible.
3. Appeal to Consumers' Interests: The call for GMO labels reflects a greater trend among consumers seeking healthy foods. Even products that contain GMOs can speak to health-conscious consumers by highlighting their nutritional value. Additionally, brands can emphasize ingredients like fruits, vegetables, seeds, nuts and other natural and wholesome components on product labels. Conversely, brands that do not use GMOs can make this information apparent on food packaging. No matter what information brands are trying to spotlight, try bright, bold colors and graphics that command attention. Lightning Labels' printing processes create high-quality food labels that capture details to enhance packaging design.
Right now Lightning Labels is offering 15 percent off new label orders through November 25, 2013, using promo code FEAST15 at checkout. The maximum discount is $1,000. Free ground shipping applies to regularly priced orders shipped only within the U.S. and Canada. This offer cannot be combined with any other offers or promotion. Visit Lightning Labels for more information or updated promotions.
About Lightning Labels:
Lightning Labels uses state-of-the-art printing technology to provide affordable, full-color custom labels and custom stickers of all shapes and sizes, and now offers a full line of custom packaging products. From small orders for individuals, to the bulk needs of big businesses, Lightning Labels is equipped to handle and fulfill sticker, label and product packaging projects of all types. Best of all, like the name implies, Lightning Labels provides a quick turnaround to every customers' labeling and product packaging needs. Uses for Lightning Labels' custom product labels and custom stickers include food packaging and organic food labels, wine and beverage labels, bath and body labels, and nutraceutical products, such as vitamins, essentials oils, and herbal remedies, as well as event stickers, adhesive window stickers and more. Lightning Labels strongly supports the development of environmentally friendly printing materials and carries EarthFirst PLA, a new kind of green label material made from corn instead of petroleum. While operating as a high-tech printer, Lighting Labels prides itself on its personalized customer service. Lightning Labels provides one stop shopping for all of your label and product packaging needs. For more information and to place orders online, visit LightningLabels.com. For the latest in packaging news and labeling promotional offers, find Lightning Labels on LinkedIn, Twitter (@LightningLabels), Facebook, Google+ and Pinterest.