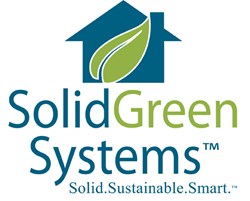 Our team is unmatched in flexibility, patience and dexterity to handle any type of building project -- large or small.
Austin, TX (PRWEB) November 18, 2013
Solid Green Systems, the leader in delivering green building materials that will reduce energy costs by more than 50 percent, announces the expansion of its executive team and the formation of an Advisory Board.
Solid Green Systems' idea of green building incorporates building methods that are not only cost competitive to traditional building methods like wood framing, but also offer an ongoing return on investment through long term energy savings. Our flexible design offerings are attractive and can scale from single-family homes to light commercial buildings that are sustainable.
"I am so excited to bring together some of the best in the building, housing, technical, and marketing industries to build out our team," said David Carolan, Founder and CEO of Solid Green Systems. "Our team is unmatched in flexibility, patience and dexterity to handle any type of building project…large or small."
If you would like to meet some of our executive team and see a recently completed new construction project in Houston, TX, please register to attend our Open House on Thursday, November 21 from 1:00pm – 4:00pm.
Members of the executive team include:

Robert Cook, President and CFO
Robert is a seasoned veteran who brings many years of management and executive experience forming and growing profitable organizations. He has overseen and implemented all facets of business.

Todd has over 25 years of experience helping companies implement organizational process improvement and change and has implemented large scale manufacturing and distribution systems.

Tiffany O'Shea, VP of Marketing
Tiffany brings more than 20 years of solid experience developing, managing and implementing public affairs/public relations/marketing communications programs for not only technology clients but also for businesses related to building stronger, more resilient, energy efficient communities.

Byron Phillips, VP of Engineering
Byron has over 16 years' experience in insurance sales, risk management and inspection for commercial and residential properties. With 40 years' experience in mechanical installation, he is a BPI Certified Building Analyst focused on energy efficient new and retro-fit building practices.

Joey Chioco, VP of Production
Joey has more than 20 years' experience in operations, purchasing, estimating and training for some of the most respected local, national and international home builders. He also founded and directed operations for his own land development and home building companies.
Members of the Advisory Board include:

Jim Bledsoe, Partner at Cendea
Andrew Rauch, Founder and Managing Partner for venture + philanthropy
Robert Young, CFO of Domain Golf Group
Scott K. Jones, VP of Construction Products at Houston Foam Plastics
Shawn Kelley, Principal at Moment Structural Engineering
About Solid Green Systems
Solid Green Systems manufactures a patented residential and commercial exterior wall and roof system made of EPS foam and light-gauge steel. Our system is faster to build, less expensive than most traditional building methods, and saves more than 50% on energy costs. For more information, please visit http://www.solidgreensystems.com.