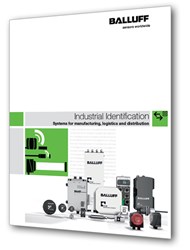 Florence, KY (PRWEB) November 20, 2013
Balluff, a leading global sensor and identification specialist known for their comprehensive, innovative, and reliable products, just released its new industrial identification catalog, containing their complete line of RFID systems (Tool ID, LF, HF, and UHF) and vision sensors, along with supporting accessories and cables.
Balluff's industrial RFID (Radio Frequency Identification) systems offer data traceability and error proofing solutions for asset tracking, machine tool, flexible assembly, factory automation, warehousing, logistics, and industrial distribution tracking. With over 20 years of experience providing industrial RFID solutions, Balluff helps customers minimize loss and expense from error-prone operations and maximize quality operations and material flow. In addition, Balluff RFID products offer maximum application flexibility using a variety of components including data carriers, metal and plastic processor housings, and read/write heads to data carrier combinations.
Balluff offers one of the largest varieties of industrial RFID in the marketplace and this new catalog highlights their full product offering with descriptions, specifications, applications, drawings, photos, and selection and application guides.
Highlights:

Selection guides in each section for easy RFID system selection, along with suggested applications
Selection criteria for choosing the right read/write distances for data tags
Easy to read technical specs
Beautiful, full color photos and application images
Technical drawing and photo for every part number
Short order codes added for quick website access
Balluff's new Industrial Identification Catalog is available in both printed and electronic formats. Order your copy today or view the PDF at this link.
In addition to RFID products, Balluff also offers complete product offerings for: object detection, linear measurement, machine vision, distributed modular I/O and bus network solutions. With over 90 years of experience and over 50 subsidiaries worldwide, Balluff continues to lead the way in innovative technology and superior quality and service.