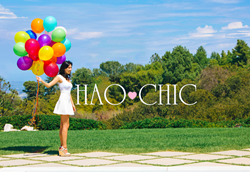 Whatever path you choose to take, it is always the right one.
Los Angeles, CA (PRWEB) November 20, 2013
If the world is Karen Hao's playground, then HAO CHIC is her sandbox - an emerging bilingual lifestyle and travel blog created as a means to share her unique perspective on creating a life with intention, filled with simple pleasures and life-altering luxuries.
An investor with a Master's Degree in Finance, Karen has cultivated a lifestyle where a weekend whim can turn into six months learning Chinese in Taiwan, and a long-time love of horses (Karen rides and competes regularly in English show jumping) can lead to an end-of-week jaunt to Amsterdam to ride. Whether taking in a gorgeous ocean view with her dogs while home in Southern California, or seeking out the best dessert spot in Hong Kong, Karen's mix of wanderlust, joie de vivre and personal style are an inspiration to anyone seeking to live life on her own terms. HAO CHIC was created for just that purpose.
"The only way to live life is to love what you do," said Karen. "Whatever path you choose to take, it is always the right one. No matter where you end up, it ends just the way it should. If you never try, you'll never know. This is what I want my readers to walk away with by engaging with HAO CHIC."
The blog has recently gained significant traction, especially in Asia. Readers of HAO CHIC are young women seeking a life filled with adventure, who love learning about the latest international hotspots, travel and fitness tips as well as fashion/style inspiration. For more information on Karen and to read about her adventures, visit HAO CHIC at http://www.haochic.com.